It is rare for a mid-level drama to strike gold at the Japanese box office, and Hachiko:A Dog's Story is now using its success as the launch pad for international and domestic openings.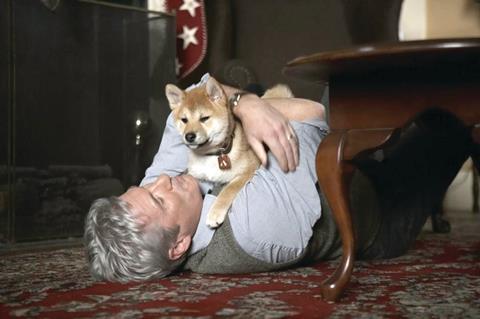 A dog named Hachiko arrives at Tokyo's Shibuya train station at the same time every day, waiting for its owner to return. Unknown to the pure-bred akita, his university professor master has already died, but Hachiko shows up like clockwork for the next decade, loyal to the very end.
"Our distribution partners think they have something special on their hands"

Bill Johnson, Inferno
It seems too incredible to be true, but this enduring tale that transpired from the early 1920s to the mid-1930s is part of the fabric of Japanese culture. Hachiko inspired articles, record releases and a bronze statue outside Shibuya station that has become a well-known Tokyo landmark.

In 1987, Shochiku studios produced the movie Hachiko Monogatari, written by Kaneto Shindo and directed by Seijiro Koyama. It was the number-one local release that year, earning $60m. Shindo later reworked his screenplay into a 2006 TV movie.

Retelling the story

The US remake Hachiko: A Dog's Story, directed by Lasse Hallstrom and starring Richard Gere, opened earliest in its spiritual home of Japan on August 8, on 349 screens, through distributor Shochiku. It has taken more than $20m at the box office and is set to be a home-video hit, despite Japan's shrinking DVD market.
Backtracking to the mid-1980s, US producer Vicki Shigekuni Wong visited the famed statue, marvelling at the story and naming her own dog 'Hachi'. When the canine died in 2002, she set out to produce an English-language version of the film with Paul Mason.

Five years later, a remake starring Gere was announced by Los Angeles-based production and foreign sales company Inferno. Hallstrom joined as director, with a screenplay credited to Stephen P Lindsey and Shindo.

Shochiku's international licensing division negotiated the remake rights.

"Sequences and characters were adapted to a US setting and audience," says division rep Satoko Ishida, "but the core storyline and the sensibility of the film was kept faithful to the original story of loyalty and trust." Shochiku acquired Japan rights from Inferno and teamed up with Fuji TV (channel '8', or 'hachi' in Japanese). The film's theatrical release was also set for August 8, holding its own against GI Joe: The Rise Of Cobra, Harry Potter And The Half-Blood Prince and the summer animation franchises, staying in the top 10 for five weeks.

Gere also has strong cachet in Japan, having starred in a previous remake of a Japanese hit " 2004's Shall We Dance? ($27m gross in Japan). He previously appeared in Akira Kurosawa's Rhapsody In August, is a devout Buddhist and regular visitor to Japan, where he periodically shoots commercials.

With its pedigree, Hachiko: A Dog's Story was expected to perform even better at the box office. However, Japan's growing disparity between a limited number of megahits and the rest sees Hachiko as one of few mid-level dramas to succeed.

Inferno's co-founder Bill Johnson says: "We're excited this film performed so amazingly well in Japan and the reaction at the Rome film festival was spectacular. A lot of our distribution partners think they have something special on their hands and we're hopeful our patient little Hachi will continue to find box-office success all around the world." It is hard to predict the film's impact in territories unfamiliar with the original story. Hachiko: A Dog's Story is now rolling out in Europe, and Inferno's Asian sales partner Double Edge sold the film to Korea at Pusan.

Wide Pictures (through UPI) has the film next on November 6 in Spain, followed by Prokino Film Verleih on November 12 in Germany.

After the warm reception in Rome, Italian distributor Lucky Red moved the release date up to December 30, with RCV in Netherlands and Imagem in Brazil also releasing in December (23 and 25, respectively). But it is the film's December 18 opening in North America, through fledgling distributor Consolidated Pictures Group, which will be key.

Nevertheless, a good movie about man's best friend is good business.