Dir/scr: Biyi Bandele. UK-Nigeria. 2013. 106mins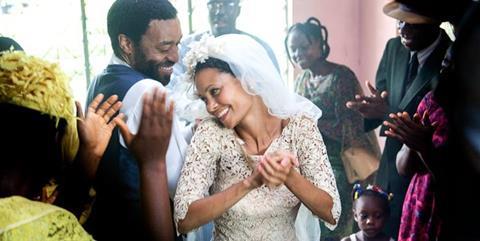 An epic and striking adaptation of Nigerian writer Chimamanda Ngozi Adichie's Orange Prize-winning novel, the beautifully staged Half Of A Yellow Sun is an engaging and often gripping tale that follows two women during the dramas of Nigeria's independence and then ensuing Nigerian-Biafran War, which ran 1967 to 1970.
Half Of A Yellow Sun is at its best when it comes to design, costumes and make-up to reflect the changing nature post-colonial Nigeria.
Driven by powerful and moving performances from Chiwetel Ejiofor (12 Years A Slave), Thandie Newton (The Pursuit of Happyness) and Anika Noni Rose (Dreamgirls), the film is directed and adapted in matter-of-fact style by Nigerian playwright Biyi Bandele, and while it lapses into melodrama at times, the sheer scope of its story is absorbing and fans of the book will enjoy its vision of a tense and changing country rent asunder by tribal feuds.
The sheer scale and depth of the book makes – by its very nature – it hard to translate into a feature film, but Half Of A Yellow Sun is at its best when it comes to design, costumes and make-up to reflect the changing nature post-colonial Nigeria, and while it does feel a little bit soap opera at times, nothing can be taken away from the intensity of the drama or the strength of lead performances.
The film follows the twin storylines of sisters Olanna (Thandie Newton) and Kainene (Anika Noni Rose), daughters of a well-to-do businessman but who follow very different paths. Olanna falls in love with falls in love with Odenigbo (Ejiofor), a revolutionary who fathers a child by another woman, while Kainene enters into a romance with a white British writer (Joseph Mawle), who has come to Nigeria to teach.
As civil war spreads through the country, the sisters flee to Nigeria's southeastern region where the short-lived Republic of Biafra is formed. Each sister leads different lives – academic Olanna accepts Odenigbo's illegitimate daughter as her own and as they flee they have to live in increasing poverty, while Kainene moves from running a major company for her father to overseeing a refugee camp – but it is their strength and fortitude in the face of adversity that the story celebrates.
Adichie's sprawling and complex story is shrewdly adapted by Biyi Bandele, and while as a director some of the set-ups are rather straightforward the era is wonderfully captured, with special attention paid to how the apartments are designed and what clothes the two sisters wear.
Thandie Newton to a degree has the showier role as the passionate and elegant Olanna, and her vibrancy adds much to the part of a woman who accepts everything to sustain her love, while Anika Noni Rose is wonderfully sarcastic and stylish as Kainene, a driven woman who has to deal with her own bout of heartache. Add to the pot the ever-impressive Chiwetel Ejiofor; Onyeka Onwenu as his strident mother and John Boyega (who starred in British fantasy romp Attack The Block) as the servant boy who works for Olanna and Odenigbo, and you have a well acted film that sustains interest.
Production company: Slate Films
International sales: Metro International Entertainment, www.metro-films.com
Producer: Andrea Calderwood
Executive producers: Yewande Sadiku, Muhtar Bakare, Gail Egan, Norman Merry, Peter Hampden
Cinematography: John de Borman
Editor: Chris Gill
Production designer: Andrew McAlpine
Music: Ben Onono, Paul Thomson
Main cast: Thandie Newton, Chiwetel Ejiofor, Anika Noni Rose, Joseph Mawle, Onyeka Onwenu, John Boyega