Al Smith has won the first ever Wellcome Trust Screenwriting Prize for Halflife, a coming-of-age love story about  two brain-damaged teenagers on a road trip.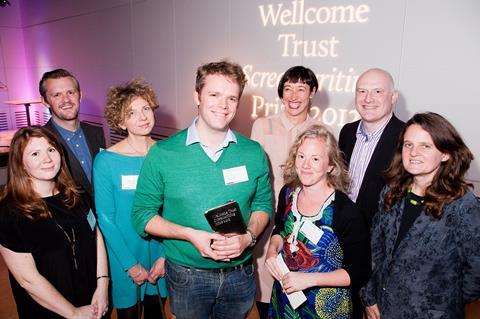 The £20,000 prize was announced Monday night in London by Ben Roberts, Director of the BFI Film Fund.
A special commendation also went to Sam Firth, who was given a £10,000 prize to help her develop further her proposed experimental documentary The Story of Me and You, exploring memory, reality and objective truth.
The new prize is being run in association with the BFI Film Fund to encourage feature films inspired by biology and medicine.
Smith's past credits include BBC2 short film series The Cut and work on TV shows Casualty and Holby City.
Clare Matterson, Director of Medical Humanities and Engagement at the Wellcome Trust, said: "Although the quality of shortlisted entries was extremely high, we were unanimous in our decision to award Al Smith our first ever Screenwriting Prize.
"His story is imaginative and well-structured with strong, believable characters. We hope that this award and the support of the BFI and Film 4 will enable him to develop this into a rich and thought-provoking film."
Lizzie Francke, Senior Executive in the BFI Film Fund, who helped judge the prize, added: "The Wellcome Trust Screenwriting Prize has been an exciting initiative to be involved with and has provided a significant new opportunity for screenwriters.
"Al Smith is a talented writer with a strong background in theatre and television. We're delighted that with the support that this prize provides, Sam can now continue to develop his screenwriting voice."
Film4 development editor Eva Yates was also on the judging panel.