Dirs: Peter Farrelly & Bobby Farrelly. US. 2010. 108mins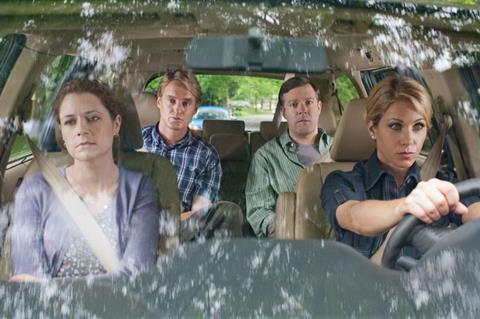 Hall Pass finds Peter and Bobby Farrelly going back to their R-rated roots while tackling relatively mature subject matter – the challenges and joys of marital fidelity. The brothers deliver a handful of fairly funny gross-out moments; but with its uneasy mix of style and content this New Line comedy feels for the most part like a film out of time.
The Farrellys' crude shooting style works well enough for the gross-out gags.
The Farrelly's recent run of box office underperformers seems likely to continue when worldwide distributor Warner opens the film in North America on Feb 25, though star Owen Wilson's pulling power should slightly bolster the appeal of the Farrelly brand. International prospects also appear limited, though the casting of Stephen Merchant could produce a spike in the UK.

Wilson's Rick and his best friend Fred (Saturday Night Live's Jason Sudeikis) are loving suburban husbands who still fantasise about other women. Hoping to prove that the fantasies are just that, Rick and Fred's wives (played by Jenna Fischer, from the US version of The Office, and Anchorman's Christina Applegate) give the men a 'hall pass': a US high school term that in this context means a week of freedom from the usual constraints of marriage.

Cheered on by their buddies, Rick and Fred make bumbling attempts to get laid – the wives do better without really trying – and in the process rediscover their marital bliss.

The Farrellys' crude shooting style works well enough for the gross-out gags – which feature some fairly impressive body parts and functions – but doesn't help the film in its more serious moments. And the sweetness that the brothers bring to their romantic stories is less evident in this scenario.

Cameo performances come from Joy Behar (one of the presenters of US talk show The View), who plays a pop psychiatrist, and Richard Jenkins (The Visitor), who plays an ageing lothario hipster. Merchant (co-creator of the UK version of The Office) is underused, with his most substantial scene relegated to the end credits.

Production companies: New Line Cinema, Conundrum Entertainment
Worldwide distribution: Warner Bros
Producers: Bradley Thomas, Charles B Wessler, Peter Farrelly & Bobby Farrelly
Executive producers: Toby Emmerich, Richard Brener, Merideth Finn, Mark S Fischer
Screenplay: Pete Jones & Peter Farrelly &Kevin Barnett & Bobby Farrelly
Cinematography: Matthew F Leonetti
Production designer: Arlan Jay Vetter
Editor: Sam Seig
Costume designer: Denis Wingate
Music supervisors: Tom Wolfe, Manish Raval
Website: www.hall-pass-movie.com
Main cast: Owen Wilson, Jason Sudeikis, Jenna Fischer, Richard Jenkins, Christina Applegate