Dir: Sebastian Hofmann. Mexico . 2012. 84mins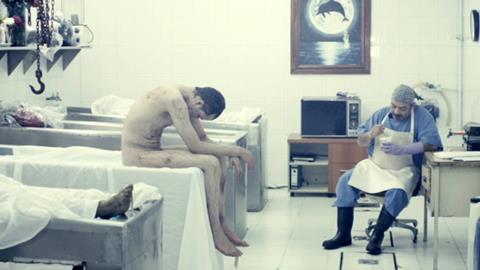 A disturbingly stylish and surrealistic drama, Sebastian Hofman's impressive Halley is hard to define and very much a niche sale, but it could well attract critical support given its strangely compelling story, impressive performances and strange sense of the grotesque.
Hofman treats Beto and his strange and disturbing condition with gentle respect.
Premiering at Sundance, Hofman's feature debut is virtually a zombie film without the horror of the zombies and, but its core story of physical decay and deathly illness would fit into any perverse horror film, with the film's 'hero' essentially one of the walking dead.
Beto – a powerful and striking performance by Alberto Trujillo – works as a security guard in a Mexico City gym where the muscle-bound patrons are in stark contrast to his emaciated body and rather unpleasant physical deterioration. He has a strange – and unnamed illness – that sees his body covered with bloody sores and his movement hampered, though he does his best to cover up his condition and when at his apartment injects himself with embalming fluid to stem the decay.
He tells his boss Chivis (Lourdes Trueba) that he has leave his job because of his illness, and while she encourages him to talk and possibly stay on he is determined to leave. He staggers the streets like the walking dead, and after collapsing he is assumed dead and taken straight to the morgue when he befriended by a genial morgue attendant.
After his last day at work he enjoys – well comes close to smiling – a tacos dinner with Chivis, but while she gets drunk and wants to dance he cannot get close to her, and later at home bloodily abuses himself as he thinks of what could have been with her.
Hofman treats Beto and his strange and disturbing condition with gentle respect. What he is going through is horrific, but the film never exploits his increasingly unpleasant physical condition. He is an isolated and lonely individual struggling to keep his last moments together, hauntingly straining to fumble through his last few days. The film ends, in typically surreal fashion, with a cut-away to a ship cruising through the icy sea.
Production companies: Simplemente, Mantarraya Producciones, Piano
International sales: Visit Films, www.visitfilms.com
Associate Producers: Jorge Fong, Rune Hansen, Monica Reina, Joakim Ziegler
Screenplay: Sebastian Hofmann, Julio Chavezmontes
Music: Gustavo Mauricio Hernandez Davila
Main cast: Alberto Trujillo, Lourdes Trueba, Hugo Albores