Dir: Nujoom Alghanem. UAE. 2010. 63mins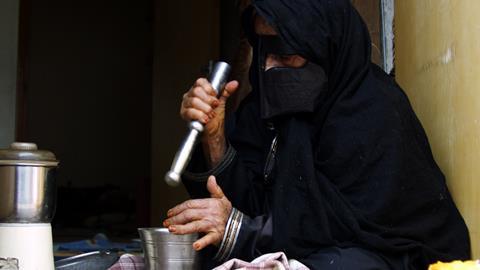 Female healer Hamama is nearly 90, can barely, drinks too much coffee and favours dozing off for regular naps, but she still treats patients every day and is something of a living legend in the Emirates. Nujoom Alghanem's fascinating documentary is a fascinating glimpse into the life of this intriguing and often still dynamic woman.
The film offers a rare glimpse into the life of a forthright and fascinating woman.
Hamama is still valuable to the hundreds of people who visit her at her home at Al Dhaid, in Sharjah in the UAE, and while her age and own personal hardships are part of the film, at its core is the sheer charisma and zest of a woman whose healing skills still give hope to many.
Even the medical community has time for Hamama. Breast cancer expert Dr Houriya Kazim is interviewed and goes to meet her, describing Hamama as "quite a character". In one delightful she browbeats an old patient to show to the camera where she cauterised his leg to help him walk again. He initially says it is "not appropriate" to show his leg to the camera, but she keeping on telling him to "show them" until he does as she says.
Running just over an hour, the film – which had its world premiere at the Dubai International Film Festival – could be a nice fit for niche television channels, offering a rare glimpse into the life of a forthright and fascinating woman.
Production company: Nahar Productions, Dubai Entertainment & Media Organisation
Sales contact: 7704994@gmail.com
Producers: Nujoom Alghanem, Khalid Albudoor
Screenplay: Khalid Albudoor
Cinematography: Nick Davidson
Editor: Acen Razvi
Music: Zaher Akahshi