Diane Keaton and Brendan Gleeson star in this painful London-set romance.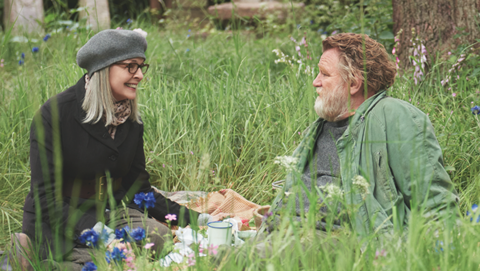 Dir. Joel Hopkins. UK, 2017, 103 mins.
Hampstead plays out in a fantasy - or fantastical - London where the sun always shines on rich white people and even tramps live in shabby-chic lean-to's in a sea of posh mansion blocks manned by Asian doormen.
Set for US distribution through The Weinstein Company and a UK release via EOne, this Ecosse Films production stars Diane Keaton and Brendan Gleeson in a Saga romance between a bankrupt widow and a salt-of-the-earth Irish tramp. Watching it is akin to witnessing Maggie Smith's The Van slowly rear-end Richard Curtis's Notting Hill: a cringing slow-mo car crash best viewed between your hands.
Enter, through a hedge, Brendan Gleeson as Donald, the flame-haired, no-nonsense, truth-talking wild Irish rogue with a damaged past, a perfectly trimmed beard, and a dab hand at shabby-chic interiors.
The older Best Exotic Marigold Hotel audience is a lucrative one: recent low-cost plays for this demographic have included the Joan Collins vehicle The Time of Their Lives and Jenny Seagrove in Another Mother's Son, both of which were torpedoed by critics. The higher-end Hampstead seems likely to follow suit, lacking either the subtlety or star power of Their Finest (which was a commercial disappointment in the US) or even Eleanor Coppola's soft-edged Paris Can Wait.
With a musical score so saccharine it might conceivably send elderly viewers into a diabetic coma, Hampstead is director Joel Hopkins' follow-up to 2008's Last Chance Harvey, which starred Emma Thompson and Dustin Hoffman in another London-set romance. If there's a late-life seam here, Hopkins seems obsessed with mining it.
There's a premise in Hampstead that's purchasable, and the film is in fact (very) loosely based on a true story. Written by Robert Festinger (In The Bedroom), the screenplay draws on the life of the late Harry Hallowes, or "Harry the Hermit", an Irish squatter who became the owner of a £2m plot of land on Hampstead Heath in 2007 after a short legal battle.
Harry, who never sold the land, had lived in a 12x8ft shack on the grounds of Athlone House since 1986. Festinger has spun this nugget off into a Hampstead Village populated by outsized eccentrics where kooky widow Diane Keaton struggles to keep her head above water following the death of her husband (their son is briefly played by Grantchester's James Norton).
While Keaton dials down her mannerisms, there are more than enough 'gee-golly' moments in Hampstead as she dodges kites on Parliament Hill, rambles around the grounds of Kenwood House and visits Karl Marx in Highgate cemetery (the neighbourhood has possibly never looked better).
Sighing and muttering to herself as she goes about her daily business (which loosely appears to involve running a charity shop) Emily has been adopted by her snobby, wealthy neighbour Fiona (Lesley Manville), but struggles to pay the maintenance fees on the mansion block in which she lives. Although she is not entirely upset that her philandering husband has died, Emily is not ready to date Fiona's stream of eligible suitors either.
Enter, through a hedge, Brendan Gleeson as Donald, the flame-haired, no-nonsense, truth-talking wild Irish rogue with a damaged past, a perfectly trimmed beard, and a dab hand at shabby-chic interiors.
They slowly fall for each other – cue a montage visit to the British Museum's Elgin Marbles – but unfortunately greedy developers want to get their hands on surly Harry's shed, so Diane must step in to save the day. This leads to a few not-terribly-suspenseful hiccups in this odd-couple's path to true love.
Banging away on a banjo in one of the film's cuter subplots is Jason Watkins as a suitor for Emily's hand, and it's surely a disappointment that this film doesn't measure up to his characterful performance: he exits as the owner of Hampstead's sole successful gag.
Technically, Hampstead is strained onto the screen through a treacle lens: the sun constantly shines, roses are in full bloom, the birds are on 24-hour overtime duties, all but bursting their lungs with the dawn chorus, and there's a chocolate box aesthetic throughout that would make Cadbury's proud.
One might wonder about the effects this will have on house prices in the neighbourhood, although in real life London's upmarket suburb of Hampstead already has the Notting Hill uptick factor costed in. It's unlikely, too, that as many people will see this; some small comfort for Gleeson, on whose CV Hampstead marks an odd blip.
Production companies: Ecosse Films
International sales: Cornerstone Films, office@cornerstonefilm.com
Producers: Robert Bernstein, Douglas Rae
Executive producers: Leon Clarance, Ian Hutchinson, Jo Monk, Laure Vaysse, Mark Woolley, Deepak Nayar, Alison Thompson, Mark Gooder, Claudia Bluemhuber, Bob Weinstein, Harvey Weinstein, David C. Glasser
Screenplay: Robert Festinger
Cinematography: Felix Wiedemann
Production design: Sarah Kane
Editor: Robin Sales
Music: Stephen Warbeck
Main cast: Diane Keaton, Brendan Gleeson, James Norton, Lesley Manville, Simon Callow, Alastair Pethrie, Jason Watkins.