Dir: Valerie Donzelli.  France-Belgium. 2012. 85mins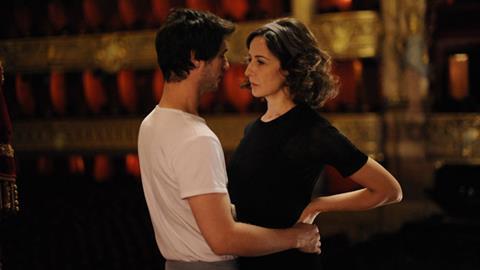 The reigning monarch of French screwball indie rom-coms, Valerie Donzetti charms more than she delights with her follow-up to the remarkable Declaration Of War, which after its 2011 Cannes debut went on to seal a raft of arthouse deals. Featuring a brace of immensely enjoyable performances, not least by talented comedienne Valerie Lemercier and Donzelli's former partner (and co-scripter) Jeremie Elkaim as an unlikely couple from different sides of the tracks who become literally inseparable, Hand In Hand (Main dans la main) fails quite to deliver on its exhilaratingly madcap first act.
Romantic and optimistic to its core, Hand In Hand is shot and edited with Nouvelle Vague verve and nonchalance.
Donzelli knows how to harness movement, dance and music in the service of comedy, and Hand In Hand – which is set partly in the august halls and practice rooms of the Paris Opera ballet school, where Lemercier's character Helene teaches – offers up some deliciously wordless scenes of physical slapstick that reach back beyond the Marx Brothers to Chaplin and the circus. But in the end the sugar rush wears off and the tres francais elegy to romantic love that replaces it never touches the emotional peaks of the director's previous outing.
It's almost as if Donzelli needs darker notes (like Declaration's baby with a brain tumour) to ground her penchant for whimsy. Still, she and Elkaim are now a brand of sorts on home ground, and this should be enough (with Lemercier's cachet) to ensure a decent indie rollout in France. Elsewhere, it will be a harder sell than Declaration, though could work as a counter-programming bagatelle in a week when other arthouse offerings are slow and sombre.
Elkaim plays Joachim Fox, a working-class French man in his early thirties who seems defined more by the skateboard that is his default mode of transport than by his job as a glazier. He lives in Commercy, a provincial French town famous only for its madeleine biscuits, in the same house as sister Vero (Donzelli), a mum and amateur dance enthusiast.
Sent to Paris to finish mounting a set of mirrors at the Paris Opera, he meets Helene (Lemercier), a posh, rather stand-offish ballet teacher who lives with a female companion Constance (De Stael, reprising a similar role from Donzetti's debut La Reine des Pommes), and who enjoys all the benefits of the elite French cultural establishment lifestyle: a chauffeur, an elegant apartment, plenty of spare cash and even the romantic attentions of the Arts Minister.
It's a coup de foudre – with a twist. As soon as they meet, the two are stuck together, quite literally – compelled to follow wherever the other goes, repeat the same gestures, fall asleep at the same instant. It's a fascinating premise that makes for some enjoyable body comedy, and Donzelli spins it out neatly by making Jerome and Helene not even sure they like each other at first, and wary of any kind of physical intimacy. There's symbolic resonance too: this is a film about the bonds we build (Helene and Constance, Joachim and his sister) and the way other connections, not necessarily under our control, can create unstable chemical-emotional compounds that nevertheless sometimes work.
Romantic and optimistic to its core, Hand In Hand is shot and edited with Nouvelle Vague verve and nonchalance, playing satisfyingly with the contrast between the august, gilded halls of the Opera, and the much freer country town ambience of Commercy. Interleaved with musical montages, some accompanied by Super-8-style footage, this is a musical that doesn't quite declare itself as such, its soundtrack of classics from the Nutcracker Suite to Bonnie Tyler another of the feelgood factors that compensate, in part, for the script's second-half meanders.
Production companies: Rectangle Productions, Wild Bunch, France 3 Cinema, Scope Pictures
International sales: Wild Bunch, www.wildbunch.biz
Producer: Edouard Weil
Screenplay: Valerie Donzelli in collaboration with Jeremie Elkaim and Gilles Marchand
Cinematography: Sebastien Buchmann
Editor: Pauline Gaillard
Production designer: Gaelle Usandivaras
Music: Peter Von Poehl
Main cast: Valerie Lemercier, Jeremie Elkaim, Beatrice De Stael, Valerie Donzelli, Sebastien Noire, Serge Bozon, Philippe Laudenbach