Dir: Amir Bar-Lev. US. 2013. 98mins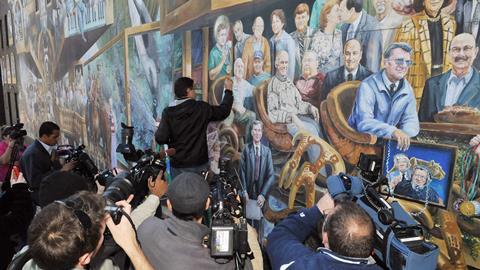 The name of Jerry Sandusky, who is now in prison for life, is synonymous with the abuse of young children by athletic coaches. Happy Valley visits the culture that sustained Sandusky for years, and finds plenty of denial.
Football as religion is a truism in the US. In Bar-Lev's film, football as identity and profit takes over.
The troubling documentary by Amir Bar-Lev (Fighter, My Kid Could Paint That, The Pat Tillman Story) locates plenty of defenders of Pennsylvania State University, the institution whose leaders knew of Sandusky's misdeeds and chose not to discipline the man.
Ardent Penn State fans might want to burn this film, but sports fans in the US could be the audience that takes Bar-Lev's persistent inquiry into that institution beyond the art houses and into the American heartland. Happy Valley should get strong play on cable sport channels. Interest is likely to be limited outside North America, although the doc can introduce UK viewers to a grim localised version of American football hooliganism.
Bar-Lev opens his documentary with that staple of American cinema, scrutiny behind the picket fence in what seems like an ideal college town – State College PA - all the more ideal because the football coach resists the crass commercialisation of sport. A high percentage of coach Joe Paterno's players actually graduated, a rarity at the high levels of US college sport.
Bar-Lev watches the university community witness news of Sandusky's 2012 conviction on multiple counts of sexual abuse. Soon head football coach Paterno (Sandusky's boss), is sacked, along with the university president and other officials. The youth response on campus is a riot in which news trucks are overturned and property is destroyed.
The mob reaction to disturbing news is at the core of Bar-Lev's film, in which football fever fuels group fenzy in Happy Valley. Critics of Joe Paterno (nicknamed 'JoePa') are insulted and threatened when they express concerns publicly, as police stand by. This is extreme football fervor. It would be hard to find a Catholic congregation in the US that rallied behind a bishop who turned the other way after seeing evidence of sexual abuse. Football, as we see, is another story.
Football as religion is a truism in the US. In Bar-Lev's film, football as identity and profit takes over. The university searches for life beyond the revered Paterno, who dies in 2012 of a cancer that's diagnosed the day after his firing. A popular statue of Paterno – a bronze figure of sports kitsch that was a tourist destination – is destroyed by the university, which also expunges the former coach's name from the university's history, like that of a purged Soviet official under Stalin. As the crowds pour back into the football stadium, Penn State is busy marketing a cult of personality for its new coach.
Bar Lev's scenes of crowd melees are frightening, but his film contains intimate poignant testimony that is equally troubling. Jerry Sandusky's stoic adopted son, Matt, tells a sad story of growing up in the squalid digs of a desperately poor family and gravitating toward a program for poor boys headed by the coach, who gave the children food, gifts, and mandated sex.
Matt's natural mother, assumed to be negligent, had alerted a local court to coach Sandusky's worrisome proclivities, but a judge ordered the boy taken away from her. Matt Sandusky testifies against his adopted father, and is shunned by Penn State and the Sandusky family that had taken him in.
Behind the white picket fence and the marble university halls is a shocking institutional logic. Even with financial compensation, victims remain victims, and are left to rebuild their lives. Once again, messengers provide information at their own risk.
Production companies: A&E IndieFilms, Asylum Entertainment, Passion Pictures
International sales: Submarine Entertainment josh@submarine.com
Producers: John Battsek, Jonathan Koch, Ken Dornstein, Steve Michaels
Executive producers: Molly Thompson, Bob DeBitetto, David McKillop
Co-Producer: Ezekiel Morgan
Cinematography: Sean Kirby, Nelson Hume
Editor: Dan Swietlik
Music: H. Scott Salinas