Dir: David Yates. UK-US. 2010. 146mins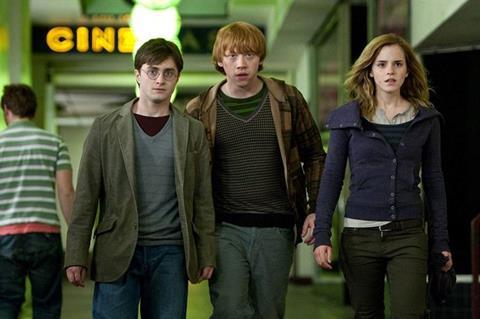 With the Harry Potter story wending its wizarding way towards its conclusion, part one of the adaption of the final novel will prove a satisfying pre-Christmas treat for fans of the series as it reaches a level of maturity and depth that might also help it cross-over to Potter skeptics.
It is elegantly directed by David Yates, with luminous cinematography from Eduardo Serra and impressive production design by Stuart Craig.
The Harry Potter franchise has been a massive success for Warner Bros., with young fans maturing alongside the heroic young would-be wizard. Harry Potter And The Deathly Hallows Part 1 sees him as a young man, surrounded by death and mayhem and forced to head off on a dark quest to address his own destiny. The film's more dark and dangerous subtexts might make it an issue for the very young Potter fans, though its more adult tone may help it reach new audiences. Either way, a hefty box office return prior to next summer's release of the concluding film is pretty much guaranteed.
Given that the seventh and final adaptation of J.K. Rowling's successful series of novels is being told over two parts, the first section was always going to be the hardest one to structure, given that by its very nature it has to end as a cliffhanger to encourage audiences to the final film. It is to director David Yates and screenwriter Steve Kloves' credit that that they have constructed a film that works on a number of levels.
This film is set completely away from the reassuring surroundings of Hogwarts School, leaving the three young heroes – Harry (Daniel Radcliffe), Ron Weasley (Rupert Grint) and Hermione Granger (Emma Watson) – with support from loyal teachers and out in the big, bad, wizarding world, which has become a far more dangerous place for enemies of the Dark Lord Voldemort (Ralph Fiennes).
With Voldemort's Death Eaters having seized control of the Ministry of Magic, terrorising anyone who might oppose them, Harry, Ron and Hermione must set out on a perilous mission to track down and destroy the Horocruxes, the key to Voldemort's immortality. As they search for clues they come across the old and almost forgotten legend of the Deathly Hallows, which – if true – could give Voldemort the ultimate power he seeks.
The first part of the film is all action. Friends and supporters of Harry Potter gather at his childhood home at Privet Drive with a plan of diversion and distraction to try and fool the Death Eaters searching for Potter. Six of the group take a potion that transforms them into identical 'Harry Potters', and with a protector each (as well as Harry) they head off in different directions, all under attack.
For the first hour it is all go – a wedding at the Weasley family home is interrupted by Death Eaters; Harry, Ron and Hermione sneak into the Ministry of Magic in disguise, and the threesome are stalked through the centre of London. But when the three set off on their quest to find the Horcruxes, things slow down and the film is as much about the complex relationship between the crusading threesome as it is wands and wizards. Here is the real examination of the growing maturity of the three who have been friends from their first days at Hogwarts as small children.
Harry Potter And The Deathly Hallows Part 1 may well end with a sort-of cliffhanger – with Voldemort discovering a powerful wand – but it also works well as a single film. It is elegantly directed by David Yates (who also directed Harry Potter And The Order Of The Phoenix and Harry Potter And The Half-Blood Prince), with luminous cinematography from Eduardo Serra and impressive production design by Stuart Craig.
Of course, while Radcliffe, Grint and Watson are consistently good as the young heroes, the real delight of the Harry Potter films is the vast cast of support actors, many of whom only crop up for the smallest of scenes. The likes of Alan Rickman, Robbie Coltrane, Imelda Staunton, John Hurt, Peter Mullan, Jason Isaacs, Brendan Gleeson, Richard Griffiths, Helena Bonham Carter, David Thewlis etc., all seem to relish their parts within this epic tale, and all deliver memorable performances sometimes only based on a few moments of screen time.
Harry Potter And The Deathly Hallows Part 2 is set to released on July 15, 2011, finally bringing to an end a series that started 10 years earlier with Harry Potter And The Philosopher's Stone (or .. Sorcerer's Stone as it was titled for the US market). It will bring the curtain down on a lucrative film franchise, but not to a product line that now encompasses books, toys, DVDs, games and even theme parks.
Production companies: Heyday Films, Warner Bros
International distribution: Warner Bros
Producers: David Heyman, David Barron, J.K. Rowling
Executive producer: Lionel Wigram
Co-producers: John Trehy, Tim Lewis
Screenplay: Steve Kloves, based on the novel by J.K. Rowling
Cinematography: Eduardo Serra
Production designer: Stuart Craig
Editor: Mark Day
Music: Alexandre Desplat
Website: www.harrypotter .com
Main cast: Daniel Radcliffe, Rupert Grint, Emma Watson, Helena Bonham Carter, Ralph Fiennes, Robbie Coltrane, Michael Gambon, Rhys Ifans, Jason Isaacs, Bill Nighy, Alan Rickman, Brendan Gleeson, David Thewlis, Tom Felton, Helen McCrory, Clemence Posey, Julie Walters, Bonnie Wright, Mark Williams