Paramount's action-adventure becomes first film since The King's Speech to record three consecutive weeks at number one.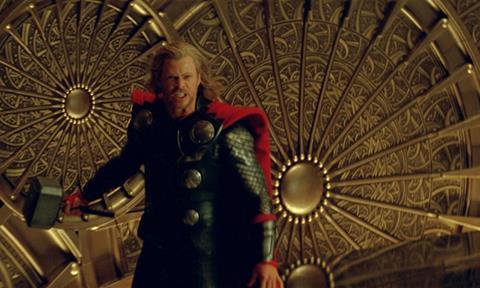 It was a case of déjà vu at the top of the UK box office as Paramount's Thor and Universal's Fast & Furious 5 occupied the top two spots for the third consecutive week. The result is significant for Thor as it not only elevates it to 15th in Paramount's all-time performers at the UK box office, but also marks only the second time this year that a film has gone three consecutive weeks at number one.
The King's Speech achieved it back in January but was knocked off top spot by Tangled in its fourth week, a fate that seems likely to befall Thor next week as Pirates Of The Caribbean: On Stranger Tides makes it UK bow.
Universal's Fast & Furious 5 continues to show no sign of stalling as it chalked up another $1.9m (£1.2m) to stand at $26.5m (£16.3m). The fifth film in the popular racing franchise is now the ninth best performer for Universal at the UK box office of all time and should surpass Nanny McPhee 2's $27.0m (£16.6m) haul this week.
Joe Cornish's feature directorial debut Attack The Block may not have been able to dislodge Thor or Fast & Furious 5 but did post a high-week location average of $5,230 (£3,221) on its way to $1.8m (£1.1m) to land in third. It marks yet another £1m+ opening weekend for Optimum in 2011, following the likes of Unknown (which is now the distributor's biggest UK grosser of all time) and Source Code.
However, it's worth noting that without its previews of $482,265 (£297,296), it would have had to settle for fourth place.
This week's top five was rounded off by Momentum's Insidious, which continued its impressive run after dropping just 27% in its third week for $9.0m (£5.5m) so far, and Universal's Hanna, which held firm in fifth after grossing $1.3m (£821,081) in its second week.
In a slow week for new releases, Icon's The Way was the week's second highest new entry after taking $169,514 (£104,397) (including previews) from 75 locations for 12th; while Take Me Home Tonight flopped for Universal after a meagre $74,463 (£45,859) at a woeful average of $722 (£445) could only get it to 16th. It can take a little comfort however in that it avoided the ignominy of being Universal's worst opening of the year, currently the $59,721 (£36,785) debut of The Company Men.
Next week sees the return of Captain Jack Sparrow as the fourth instalment of Disney's ever popular franchise Pirates Of The Caribbean: On Stranger Tides sails into UK cinemas. Lionsgate's Blitz receives the week's only other saturation release, hoping to mark a successful start for Lionsgate's first foray into UK production. 20th Century Fox's Win Win and Optimum's Julia's Eyes both receive wide releases.