Dir/scr: JT Petty. US. 2012. 85mins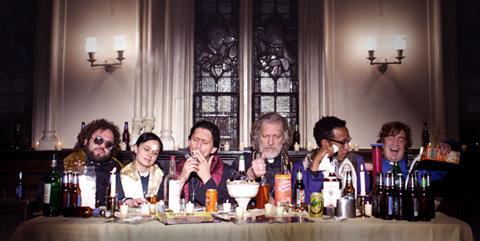 This oddball profanity heavy 3D horror romp is great in concept – a breakaway group of New York priests have to indulge in as many sins as possible so they are 'damnation ready' and up to the task of exorcising demons – but while punctuated with deliciously dark moments it is way too scattershot and unamusing to work the way it intends.
It is great to see genre film stalwart Clancy Brown given a role he can rally get his teeth into.
The core idea for JT Petty's tight little low-budget horror film is sound, with the Hellbound Saints of Brooklyn Parish resembling a raucous fraternity rather than Catholic Church priests. Led by Angus (Clancy Brown, from Highlander and Petty's The Burrowers) they live in a constant state of debauchery - smoking, drinking and philandering – and are monitored to make sure they are breaking as many sins as possible.
Apparently they are the Church's best last hope and leap into action – or catch the bus in some cases - when a regular exorcism just won't do the trick. They're called in to trap demosn and drag them down to hell with them. The team – which includes Clifton Collins Jr., Andre Royo, Dan Fogler, Macon Blair and Robyn Rikoon – finds themselves under pressure when the Church threatens to close them down, and when a new demon arrives in the Big Apple they find themselves in a crazed race to save the world and halt a demon's plans to wipe out humanity.
It is great to see genre film stalwart Clancy Brown given a role he can rally get his teeth into, and he is excellent as the tough-talking head priest who can handle the demons as well as showing a gift for drunken profanities. Comedy moments come from Dan Fogler and Andre Royo, though director JT Petty never quite finds the right balance between bawdiness and horror, with Clifton Collins Jr at times trying too hard and not quite finding the right tone.
Horror can often be the perfect genre for 3-D, but Hellbenders offers little new to the format. There are moments when the sheer over-the-top bacchanalian excesses are amusing, but frustratingly this wild horror ride lacks the thrills and spills to make it a cult favourite.
Production company: OffHollywood Pictures
International sales: Preferred Content, www.preferredcontent.net
Producers: Mark Pederson, Jon Denny, Lawrence Mattis, David Moscow, Aldey Sanchez
Executive producers: Jay Rifkin, Jonathan Gray, Matt Leutwyler, Miranda Bailey, David Alpert, David Engel
Cinematography: Ryan Samul
Editor: Jacob Craycroft
Production designer: Russell Barnes
Main cast: Clifton Collins Jr., Clancy Brown, Andre Royo, Robyn Rikoon, Dan Fogler, Macon Blair, Robyn Rikoon