Dir/scr: Spike Jonze. US. 2013. 120mins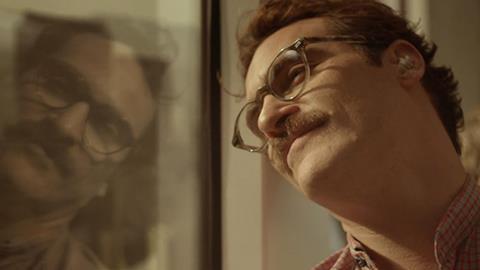 The quirkiness of director Spike Jonze's early films takes a back seat to more emotional concerns in Her, a funny and touching - and still pretty quirky - romantic drama centred on a beautifully sustained lead performance from Joaquin Phoenix. Sure to please critics - best film awards from the National Board of Review and the Los Angeles Film Critics Association are already in the bag - this futuristic love story will also be embraced by hip youngish cinemagoers.
In his first appearance since The Master, Phoenix gives another intense performance.
After screening in October at the New York festival, the film should find its core audience through a limited US release on December 18. The real test will come when domestic distributor Warner tries, perhaps with the help of more awards kudos, to reach out to a wider audience in January.
Independents will start releasing the film - which also screened at November's Rome festival - internationally in the New Year.
Based on Jonze's first script as a solo screenwriter (he co-wrote Where The Wild Things Are and worked with Charlie Kaufman on Being John Malkovich and Adaptation), the film is set in a near-future Los Angeles where Phoenix's Theodore is a recently separated commercial writer. Though he's personable enough to have a female best friend (played by The Master's Amy Adams) and the odd date (Rush's Olivia Wilde), Theodore really connects with Samantha, the voice-controlled operating system on his computer (voiced by Scarlett Johansson) designed to learn about 'her' user and evolve a character of 'her' own.
As the affair develops, Jonze explores the effect of technology on human relations but mostly treats the tale as a love story, one that eventually runs into the same kinds of problems (though for different reasons) as most all-human love stories. Though scenes occasionally start to feel static, Jonze usually finds entertaining ways to keep the film's tricky conceit going.
In his first appearance since The Master, Phoenix gives another intense performance, though this time his character is less mannered and much more sympathetic. Johansson also contributes greatly to bringing the film's central relationship to life.
The music score by indie rock band Arcade Fire is not particularly memorable but should add to the film's hipster appeal.
Production companies: Warner Bros Pictures, Annapurna Pictures
International sales: Panorama Media, www.annapurnapics.com
Producers: Megan Ellison, Spike Jonze, Vincent Landay
Executive producers: Daniel Lupi, Natalie Farrey, Chelsea Barnard
Cinematography: Hoyte Van Hoytamer
Editor: Jeff Buchanan
Production designer: K K Barrett
Costume designer: Casey Storm
Music: Arcade Fire, Owen Pallett
Website: www.herthemovie.com
Main cast: Joaquin Phoenix, Amy Adams, Rooney Mara, Olivia Wilde, Scarlett Johansson