Dir/scr: Mark Cousins. UK. 2013. 77mins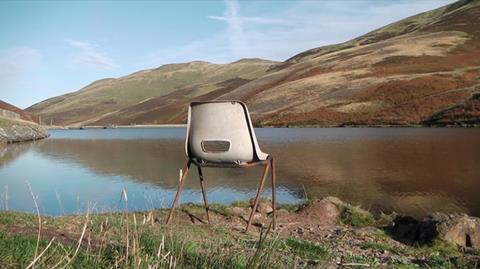 An engagingly freewheeling stream of consciousness film loosely based around a few days he spent in Albania, documentary filmmaker Mark Cousins' latest film can easily be dismissed as self indulgent, and while he struggles at times to knit together the various thoughts, ruminations, strands and issues that make up Here Be Dragons there is a whole lot of heart and soul in the film as well as moments of real insight.
There is no denying Cousins' passion, commitment and own idiosyncratic charisma which all help make Here Be Dragons a rather watchable journey into an intriguing country.
Made – rather proudly – for less than $13,000 and shot over a few days using a small hand-held camera, the film essentially recounts the few days he spent in Albania as a jury member of the 13th festival of Albanian films, viewing every Albanian film of the last five years. He uses this a springboard to wander round the city, ruminate on art, architecture, cinema, literature and pretty much anything else that comes into his head while pointing his camera.
Here Be Dragons is closer in tone to his recent – and equally briskly made – films What Is This Film Called Love? and A Story Of Children And Film then his acclaimed epic television series The Story Of Film: An Odyssey, and speaks more about his unwillingness not to document virtually anything around him than a real heartfelt desire to make a film that really delves into the realities of Albania.
Thankfully this film doesn't feature footage of a naked Cousins as featured in What Is This Film Called Love?, though he does manage to leverage in a shot of him wading in a Scottish loch (why? Well, just because…). As with A Story Of Children And Film he likes to scene-set by musing on place and identity, and this time round asks the question 'how do you get to know a place' as a gambit to talk about his home town of Belfast and about Edinburgh, where he currently lives, as a rather contrived way of announcing he is going to Albania…and how this film will be the "story of going and looking".
The film's title comes from the well-known old cartographer's habit of writing 'here be dragons' on areas of maps that were unknown to them. It is a little heavy-handed to imply Albania is an unknown place…little visited and only relatively recently accessible it is true, but hardly unexplored territory. He makes much that it takes three flights to get there (but then this is true of many Eastern European cities when flying from Edinburgh) and tells a nice story about how Werner Herzog once tried to enter the country, couldn't and so walked around it, but this is really all just padding and only works thanks to Cousins' melodious and gently intelligent voiceover.
He gamely tries to argue that the early morning footage he takes of the skyline of capital city Tirana from is hotel room window is 'like a Monet painting' (nice clouds it is true, but no Monet), and then sets about wandering around the city. This is when the film is at its best, as he shoots nicely composed footage of the city and its inhabitants, musing over Albania's former communist dictator Enver Hoxha, relishing some of the architecture and reading poetry.
This is intercut with his film watching duties and a side trip to detail the terrible state of the national film archive where prints are rotting away in the basement. His film does show occasional footage of classic Albanian films – and in truth it would have been nicer of there were more – but in the end can never quite work out what it wants to be - a proper analysis of Albania and its cinema; a delve into the history of a fascinating country, or a 'what I did on my holidays' footage compilation.But there is no denying Cousins' passion, commitment and own idiosyncratic charisma which all help make Here Be Dragons a rather watchable journey into an intriguing country.
Production companies: HiBROW, SKA-NDAL
Contact: Hi-BROW, http://www.hibrow.tv
Producer: Don Boyd
Associate producer: Dominic Dowbekin
Executive producer: Genc Permeti
Cinematography: Mark Cousins
Editor: Timo Langer