Dir/music: Clint Eastwood. US. 2010. 123mins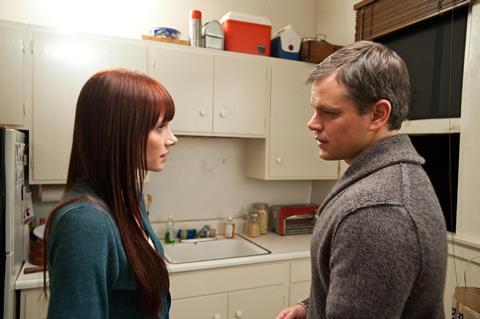 Clint Eastwood takes a bold change of pace with Hereafter, a compelling and thoughtfully structured delve into the world of the supernatural, weaving together three separate storylines that all finally converge to satisfying effect. This is no spooky chiller though…instead a fascinating look at how death affects a series of completely different people.
Cecile de France is thoroughly enchanting as the glamorous TV presenter who finds her life unraveling.
The film is scripted by Peter Morgan – whose impressive track record includes The Queen and Frost/Nixon) - and he has set Eastwood a rather different directorial challenge. This is not a film dominated by action or effects, but instead a complex interwoven story of people trying to deal with the traumas and find solace rather than solutions.
That being said, Hereafter does open in quite spectacular fashion. Successful French television reporter Marie (the spectacularly good Cecile de France) is on holiday with her TV director boyfriend at a tropical beachside resort and one morning she wanders into the nearby town to look for trinkets to take home to Paris.
The resort is then hit with a massive tsunami, and she finds herself swept away in the terrifying torrent of water. She is plucked from the water, and while two men try and save her she finds herself mentally seeing 'the other side', strange shadowy white figures against a misty backdrop. She is miraculously brought back to life, but cannot forget or totally comprehend her near-death experience.
Meanwhile in San Francisco, factory worker George (Matt Damon) is trying to hide away from his previous career as a psychic who could communicate with the dead. For him his power is a terrible curse rather than a gift, and he tries to hide himself away and not get close to people.
Taking a night school course in Italian cooking – Damon is engagingly clumsy chopping tomatoes – he meets a woman trying to start her life over (Bryce Dallas Howard), but when they start to get close she asks him to 'read' her. He delves into her past and tells her truths which drive her away.
In England young twins Marcus and Jason (Frankie and George McLaren) try to protect their druggie mother from the local social service, but when Jason is killed in a car accident Marcus finds himself taken away from his mother and also haunted by the loss of his brother.
The threesome of George, Marie and Marcus are all touched by death in different ways, and each struggle to find ways to deal with the ways that their memories and emotions drive them to find answers.
Marie takes a leave of absence from her job and writes a book about her experience in the tsunami and about the afterlife – after taking a side trip to Switzerland to talk to an academic who ha studied the hereafter (Marthe Keller in a nice cameo) – while young Marcus visits fake psychics and doctors as he looks to find a way to communicate with his brother. While searching the net he comes across an old website detailing George's abilities.
The three finally come together in London. George is there on a holiday – and a way to escape his brother (Jay Mohr) and his plans for George to go back into the psychic business – and Marie is in the city on a book tour. The three meet by accident at a book fair, where George is drawn to Marie at a reading and where Marcus spots George and follows him back to his hotel.
Eastwood ends the film with no crash-bang effects or profound announcements. Simply that these three very different people find ways to deal with their brushes with death. George helps Marcus to let his bother go, and in a low-key moment at the end George and Marie find the possibility of love.
Clint Eastwood does not resort to any clever editing to tell the three parallel stories, instead opts for a linear style switching between each storyline in 10 minute bursts, and allowing each of the characters to develop gradually. He does a great job in reflecting the socio-economic circumstances of each character (Marie is wealthy and glamorous, Marcus has a tough housing estate life and George lives modestly and along and works in a local factory) and with no fuss of grandstanding elegantly weaves the parallel storyline together.
Cecile de France is thoroughly enchanting as the glamorous TV presenter who finds her life unraveling after the tsunami (a brilliantly staged effects sequence), while Matt Damon underplays impressively as a man trying to hide from life. Young Frankie McLaren has a tougher job as the tormented youngster, called on largely to look doe-eyed and sad for most of the film, but he holds his own a his storyline develops.
It is good to see Clint Eastwood trying something very different. Fans expecting to see a supernatural thriller will be disappointed….but those interested in a shrewdly made and well-scripted drama about loss and compassion will be intrigued and impressed.
Production companies: Malpaso Productions, The Kennedy/Marshall Company
US and International distribution: Warners Bros
Producers: Clint Eastwood, Kathleen Kennedy, Robert Lopez
Executive producers: Frank Marshall, Tim Moore, Peter Morgan, Steven Spielberg
Screenplay: Peter Morgan
Cinematography: Tom Stern
Editors: Joel Cox, Gary Roach
Production designer: James J Murakami
Main cast: Matt Damon, Cecile de France, Bryce Dallas Howard, Jay Mohr, Frankie McLaren, George McLaren, Marthe Keller