Dir/scr: Aditya Assarat. Thailand. 2010. 102mins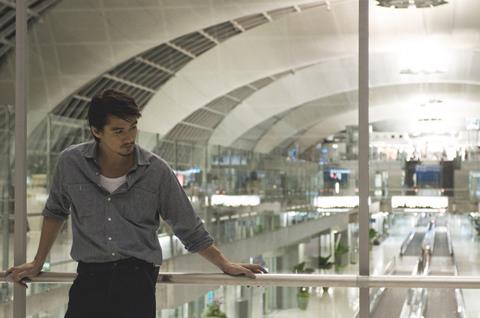 Beautifully made and artfully memorable, writer-director Aditya Assarat's beguiling film Hi-So, about filmmaking and relationships, is a film that demands attention as it draws you into its refined and elegantly simple tale.
An absorbing and beguilingly simple film that is beautifully haunting and effortlessly cool.
Assarat's previous film, the acclaimed Wonderful Town, attracted distributors, and this film – shot in Thai and English – could have the modest break-out potential for a distributor willing to go along with its gentle pace, while film festival screenings should be guaranteed. The film screened at the Tokyo International Film Festival.
US-educated Ananda (played by Thai-born, half-Australian-half-Laotian Ananda Everingham) returns to Thailand to try his hand at acting, and while filming on location at a coastal town, Zoe (Cerise Leang) his University girlfriend flies over to visit. Their time together is disrupted by his work, and she is uncomfortable in empty hotel, eventually bonding with the hotel staff.
The second part of the film sees the film wrapped and Ananda back in Bangkok, now in a relationship with May (the charming Sajee Apiwong), who works with the film's production company. They live in a ramshackle but large apartment block owned by his wealthy mother but she feels vaguely ill at ease in the relationship, especially when faced with his hard-partying old American friends.
Hi-So(which simply means 'High Society', also the original shooting title of the film) is a film of two distinct halves, both of which elegantly mirror themselves. The two women in Ananda's life don't quite fit into the way he lives; both parts have a scene where the women lie on a bed with Ananda and ask him to translate a section of something he is reading and both feature a party scene where the women enter into proceedings but are never fully part of the event.
The first part of the film was shot in Khao Lak, the same town where Aditya Assarat filmed Wonderful Town, and again he makes reference to the ramifications of the 2005 tsunami that devastated the area. In the fictional film, Ananda is playing an amnesiac who lost his memory in the tsunami, while in one scene Zoe is taken to the beach to see the still stark impact of the disaster.
Ananda Everingham's character is deliberately vague…charming but absorbed in his work. At ease with his wealth, privilege and movie-stardom, but also the butt of gentle jokes from the film crew about his imperfect Thai accent. He is a charismatic actor and elegantly ties the film together.
Of the two women, Sajee Apiwong is the most at ease her role, effortlessly beautiful and charming, though with an underlying sadness. Cerise Leang is also beautiful, but seems to lack the ease of line-delivery, though in truth she is also perfect casting as the self-centered American stuck in an empty hotel.
In a film where very little happens (the only bit of real excitement comes when May and Ananda are followed by and start to look after a lost dog) Aditya Assarat has managed to craft an absorbing and beguilingly simple film that is beautifully haunting and effortlessly cool.
Production companies: Pop Pictures Co Ltd., Spicy Disc, Halo Productions
International sales: Pop Pictures, www.pop-pictures-ltd.com
Producers: Aditya Assarat, Napassarin Prompila, Ananda Everingham, Soros Sookkarn
Executive producer: Pichai Chirathivat
Cinematography: Umpornpol Yugala
Editor: Lee Chatametikool
Music: Shimizu Koichi, Desktop Error
Main cast: Ananda Everingham, Cerise Leang, Sajee Apiwong