Dir: Vera Farmiga. US. 2010. 109mins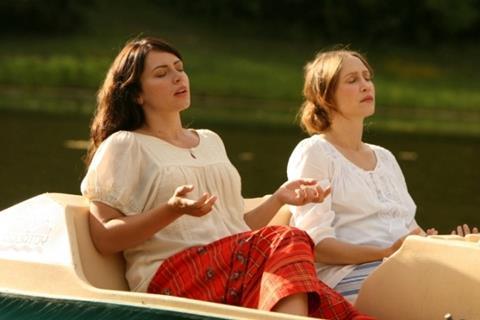 In Vera Farmiga's solid feature debut Higher Ground, the Up In The Air actress brings a refreshingly light approach to the story of a woman's life long relationship with God. If Farmiga may be known at Sundance for her gritty breakout performance as a drug-addicted mother in Debra Granik's Down To The Bone, as a director, she's crafted a more accessible film that deftly balances humour and drama.
As an actress, Farmiga imbues the character's conflict with dignity and depth.
Given strong marketing and critical support, this warm-hearted indie film should find a welcome home with upscale audiences in the US, though internationally, the movie's deeply American roots may be a tougher sell.
Based on the memoir This Dark World by Carolyn S. Briggs, and told episodically, the film begins in the 1950s, when Corinne Walker is a little girl who wants to be saved by Jesus, and goes on to chronicle the rise and fall of her faith. A prologue of sorts finds an older teenage Corinne (Taissa Farmiga, Vera Farmiga's sister) hitching up with an aspiring rock star.
When a bus accident nearly kills her infant daughter, she and her husband Ethan turn to God, looking for answers. Immediately, however, their reading of the bible creates as much doubt as solace. "That's fucked up," says Ethan, after reading a particularly harsh biblical passage.
The film then jumps to the height of the 1960s, where Corinne (Farmiga) and Ethan (Joshua Leonard) have joined a small hippie Christian congregation in Upstate New York. Along with praising Jesus, real-world complications quickly set in, such as the men gathering together to understand how to please their wives ("clitoral stimulation is part of God's plan," informs a self-help cassette tape.) The time period dovetails with the height of women's liberation, after all.
Given that the subject matter could easily descend into flat-out satire, Farmiga employs an approach that is just short of miraculous, never condescending to her flock of "believers," and yet still poking some innocent fun at the proceedings. In one terrific bit of physical comedy, Farmiga's character so wants to feel "the Spirit" and speak in tongues that she goes into her bathroom to give it a try, sashaying and praying as best she can, but to no avail.
While such sequences might offend the most extreme of evangelical audiences, Farmiga's own generous spirit shines through. As a director and an actor, she doesn't want to lampoon the faithful; she just wants to interrogate her protagonist's struggle with faith.
In its last act, Higher Ground becomes not just an exploration of one woman's religion, but also more simply, about her trying to find herself.
As an actress, Farmiga imbues the character's conflict with dignity and depth. As director, her focus remains on the performances, but technical credits are carried out adequately. Special mention should go to the costume design—the Christian women's oversized flowery print dresses alone provide a healthy dose of amusement.
Production company: BCDF Pictures
International sales: CAA
Producers: Claude Dal Farra, Renn Hawkey, Carly Hugo, Jon Rubinstein, Matt Parker
Executive producers: Jonathan Burkhart, Brice Dal Farra, Lauren Munsch
Screenplay: Carolyn S Briggs, Tim Metcalfe
Cinematography: Michael McDonough
Production designer: Sharon Lomofsky
Editor: Colleen Sharp
Music: Alec Puro
Main cast: Vera Farmiga, Joshua Leonard, John Hawkes, Dagmara Dominczyk, Norbert Leo Butz, Donna Murphy