Dir: Sion Sono. Japan. 2011. 128mins.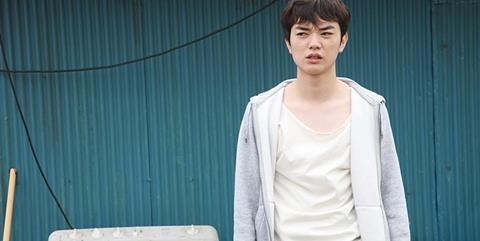 The enormous self-belief and kooky human touch of maverick, unclassifiable, sometimes controversial Japanese poet and director Sion Sono almost makes the rambling, disjointed existential teen B-movie Himizu a good film. But not quite.
The film zigzags its way towards an ending that packs an impressive emotional punch.
Too quirky in the end for its own good, this dark and often twisted teen fable with its mix of characters and hammed-up caricatures likely only made the main competition in Venice this year because of its topical references to the March 11 Japanese earthquake and tsunami, and the Fukushima nuclear plant meltdown that followed.
Not present in the bestselling manga from which the script is adapted, these were apparently woven into the story when it had already reached an advanced stage of pre-production - and although the resultant footage of post-flood wreckage and other nods at the disaster are too sincere to feel exploitative, neither do they add a lot to the gangly and often schlocky plot.
A prolific low-to-medium budget filmmaker, Sono is mostly a festival prospect outside his native Japan, and the present title will not prove a major exception to the rule - though the news value of the earthquake subplot could attract a couple more distributors to follow the lead of Fandango, who have taken the film for Italy.
There's always something to like in Sono's films, and here perhaps the standout feature is the performance of the two young leads, and the way the script shifts their relationship from cartoonish parody to affecting love story. Shota Sometani (also seen this year in Locarno Special Jury Prize winner Tokyo Park) plays Sumida, a junior high school boy who lives in a boat rental shack by the side of a lake with his sluttish, uncaring mother; Sumida's drunkard of a father (Mitsuishi) stops by only to borrow or steal money and beat his son up.
One of Sumida's classmates, pretty, pert and talkative Chazawa (Nikaidou, playing it up with cutesy perkiness but also capable of emotional depth), has a crush on him. She also has her own problems at home - in one of the film's more bizarre inventions, she has to deal with parents who don't so much neglect their daughter as want to get rid of her - which is why they're building an elaborate scaffold in the living room.
Too elaborate and full of bizarre twists to recount in detail, the plot centres on the growing but one-sided bond between Chazawa and Sumida - who initially rejects his stalker, as she at one point refers to herself - and Sumida's constant beatings and humiliation at the hands of his scumbag father, which lead him eventually to snap. A cast of tent and shack-dwelling neighbours - displaced by the earthquake and its aftermath - act as a comically hammed-up alternative family for Sumida. A yakuza boss who is owed money by Sumida's father and a lanky pickpocket also feature.
With its mostly handheld camerawork and colourful but ad-hoc production design, Himizu is clearly made on a tight budget - so much so that you feel the producers' pain when there's a dramatic crane shot of Sumida and Chazawa towards the end. Some of the film's tonal shifts are difficult to take - they veer from nasty, Miike-style violence to cutesy manga romance, from high culture (including lines from fifteenth-century French poet Francois Villon's Ballade, which accompany the action like a refrain) to low comedy and existential, old-beyond-their-years dialogue between Chazawa and Sumida. Two repeated passages from Mozart's Requiem lend a sombre note, and are associated above all with scenes of post-tsunami debris in a recurring dream.
But Sometani's steadily powerful performance as a young man driven to violence, despair and the edge of madness by the treatment he has received from the adult world does a lot to glues the film's disparate plot strands and tonal incongruities together, and Nikaidou's increasingly nuanced Chazawa grows in stature too, as the film zigzags its way towards an ending that packs an impressive emotional punch.
Production companies: Gaga and Kodansha present a Studio 3 Production
International sales: Gaga, www.gaga.co.jp
Producers: Haruo Umekawa, Masashi Yamakazi
Executive producers: Tom Yoda, Satomi Odake
Screenplay: Sono Sion, based on the manga Himizu by Minoru Furuya
Cinematography: Sohei Tanikawa
Editor: Junichi Ito
Production designer: Takashi Matsusuka
Music: Tomohide Harada
Main cast: Shota Sometani, Fumi Nikaidou, Tetsu Watanabe, Mitsuru Fukikoshi, Ken Mitsuishi, Denden