Dir/scr: Benjamin Naishtat. Argentina-France-Germany-Uruguay-Qatar. 2014. 79mins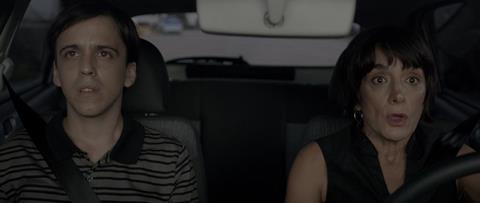 Along with the Greeks, Latin American directors seem to have cornered the market in dramas about contemporary society falling apart at the seams – particularly bourgeois society, undone by paranoia as much as a disgruntled underclass climbing over the walls of their gated communities.
Naishtat does such a good job at cranking up tension, that it's disappointing when he suddenly releases it.
History Of Fear (Historia del miedo) an assured and promising first feature by Argentine helmer Benjamin Naishtat, has much in common with another recent debut, the Brazilian Kleber Mendonça Filho's Neighbouring Sounds. Both films focus on the tensions between the haves and have nots, teasing us with the threat of imminent violence; and both have a narrative boldness, building a sense of foreboding through abstraction and enigma.
While Filho's is ultimately the more accomplished film, History Of Fear ought to enjoy a similarly solid festival life, with some art house exposure. It's certainly one of the more invigorating competition films of the Berlinale thus far.
It starts in the air, a helicopter flying over a dry and drab suburban landscape, fires burning across it, as an unseen occupant barks out draconian dictates on a megaphone. The bottom line is eviction, though we never discover at whom exactly these warnings are directed.
As a heat wave torments Buenos Aires, Naishtat unfurls a long succession of small scenes, apparently unconnected, though uniting to create a pervasive air of disquiet. In a fast food outlet, a young man's self-possessed charade freaks out the other customers; a security guard enters a home whose alarm is sounding for no reason, his rifle at the ready; a servant refuses to allow a stranger into an apartment building, the pair swapping violent expletives over the intercom; a naked, feral man attacks a car at a tollbooth; a hole is discovered in the fence of the gated community, as unexplained fires smoulder on the other side.
In the background, the TV news confirms the sense of a society about to explode: in one story, a gunman fires upon screaming crowds in the street; in another, brilliantly crazy item, we're told that a group of people – angry at the failure of their "meteor story" to gain them free housing – have beaten up on the orders of the mayor.
A small group of characters forms lines of connection between the city, the gated community and the poor suburbs that surround it. Chief amongst them are a mother and son. The Uruguayan actress Mirella Pascual, best known for her masterclass in deadpan misery in Whisky, brings a similar grey despair to Theresa, a cleaner who works in the city. Theresa's son Pola, a groundsman at the gated community, is played by Jonathan Da Rosa, a dancer in his first acting role, whose impassivity would serve him well in the Greek weird wave.
These two barely speak to each other, even when Theresa collapses from exhaustion and ends up in the hospital. And Pola's apparent alienation and pent-up anger seem to hold the key to whatever escalation of violence might occur. That said, the middle-class children roaming around unsupervised remind me of the young protagonists of another Argentine film set within a gated community, Celina Murga's A Week Alone; the threat to the smug al fresco diners at the climax of the film could just as easily be from within.
The sound design is one of the film's most crucial components, whether the industrial hum that seems to follow Pola around, or the cacophony of yapping dogs, fireworks and their own screams that stoke the diners' fears as the compound is plunged into darkness.
Naishtat does such a good job at cranking up tension, that it's disappointing when he suddenly releases it. The film's structure is so freeform that one can't say that it lacks a third act, per se; but at 80 minutes and with everything moving along with such wit, strangeness and menace, one can't help wanting more.
Production companies; Rei Cine, Ecce Films, Vitakuben, Mutante Cine
International sales; Visit Films, www.visitfilms.com
Producers; Benjamin Domenech, Santiago Gallelli
Cinematography; Soledad Rodriquez
Editors; Andrés Quaranta, Fernando Epstein
Production designer; Marina Raggio
Main cast; Jonathan Da Rosa, Mirella Pascual, Tatiana Giménez, Claudia Cantero, Francisco Lumerman