Dir: Hans-Christian Schmidt. Germany. 2012. 88mins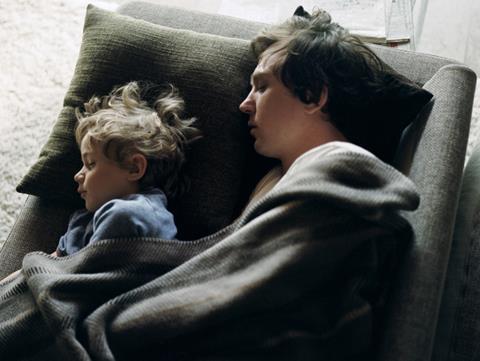 You might say that Home For The Weekend occupies a default terrain for no-frills adult drama, tracing as it does a family get-together at which long-festering emotional wounds get systematically picked over in a concentrated moment of truth. Hans-Christian Schmidt's ensemble film pretty much takes care of the expected moves, but then also offers some less predictable turns in an elegant, economical and superbly acted mapping of psychological undercurrents and (not always explicit) family relations.
Home For The Weekend is a gift for its actors, who all maintain superb control in limning the family's tightly repressed angst.
Schmidt has proved a master at depicting familial hell, in his 2006 religiously-themed Requiem, and while he covers less extreme material here, this delicately-executed miniature – a sharp turn away from the world politics themes of his 2009 Storm – will yield complexity and depth for viewers who care to delve beneath its deceptively smooth surface. The veneer of chic upper-middle-class melodrama, and lack of an obvious thematic pitch (such as Requiem's exorcism plot) will make Home For The Weekend a hard sell, but festival and distributors with an eye for upmarket intelligence will appreciate its determinedly low-key class.
Scripted by Bernd Lange, the story quickly introduces its handful of players. Berlin-based writer Marko Heidtmann (Eidinger), separated from partner Tine (Eva Meckbach), collects their young son Zowie (lively Egon Merten, usually seen sporting a tiger mask) and takes him by train to the environs of Bonn, for a weekend at Marko's parents. Patriarch Günter (Stötzner) is a wealthy publisher, recently retired, while mother Gitte (Harfouch) has a long history of mental disturbance.
They share their austerely opulent home – an imposing piece of 1960s modernism – with Marko's older brother Jakob (Zimmler), an uptight dentist who's guilty about benefiting from the parental fortune; still living at home, he's set up his own surgery with Dad's money, but the enterprise is failing, making him even more dependent.
After an initially relaxed reunion, two things trigger the dramatic cracking-up of the Heidtmann family's precarious happiness: Günter's intended Middle East research trip for a book he's planning, and Gitte's surprise announcement that she's giving up her long-term medication, following a turn to alternative medicine. As tensions bubble to the surface – largely in a very controlled, decorously middle-class manner – Jakob's girlfriend Ella (von Groote) looks on, as eventually does Susanne (Birge Schade), the other woman in Günter's life.
It's when Gitte goes AWOL in nearby woods, and the family institute a police search for her, that the film takes a turn into more heatedly dramatic territory, heading to a surprising shift of tone in a climax that may conceivably be a dream sequence. A frosty coda, set in winter, economically sketches the long-term changes in family dynamics.
As might be expected, Home For The Weekend is a gift for its actors, who all maintain superb control in limning the family's tightly repressed angst. There are only two moments of outright rage in the film, and they're perfect – and quintessentially bourgeois - in their concise understatement.
The film's consistent refusal of emotional excess could be a turn-off for viewers who like their conflicts more upfront, but it defines the tone of a film that steadfastly refuses to gratify the audience with obvious emotional payoffs.
The cast are uniformly impressive, Eidinger and Zimmler particularly convincing as brothers, catching each other's emotional rhythms (and resembling each other uncannily), while Stötzner is terrific as the powerful father whose benignity disguises the fact that he basically rides roughshod over his clan. If anyone stands out, though, it's Corinna Harfouch, who hints with immense subtlety at Gitte's disturbance and deep reservoir of resentment.
The hand-held camerawork by Bogumil Godfrejow affords us a vivid, intimate sense of eavesdropping on the drama, and makes distinctive use of daylight and architectural space. A fairly minimalist score by German trio The Notwist enhances a sometimes eerily claustrophobic mood.
Production company: 23/5 Filmproduktion
International sales: The Match Factory, www.the-match-factory.com
Producers: Britta Knöller, Hans-Christian Schmidt
Screenplay: Bernd Lange
Cinematography: Bogumil Godefrejow
Editor: Hansjörg Weissbrich
Production designer: Christian M. Goldbeck
Music: The Notwist
Main cast: Lars Eidinger, Corinna Harfouch, Sebastian Zimmler, Ernst Stötzner, Picco von Groote