Dir/scr: Muzaffer Ozdemir. Turkey. 2011. 90mins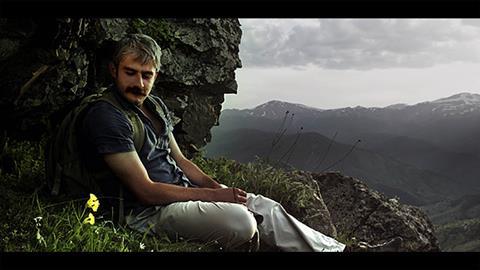 Patient conservationists will feast on this slow-paced, contemplative mountain hike made by 56 year-old Muzaffer Ozdermir, best known as the lead in Nuri Bilge Celan's award-winning Distance. With barely a sliver of a plot to hold it together, this stunning collection of awe-inspiring landscapes combines with images of modern intrusions into the heart of nature, all of it backed by brief dialogues and spells of narration, for what would be best described as a litany for a self-destructive age.
An ode to nature and an insistent indictment of those who destroy it arbitrarily.
Home (Yurt) is an ideal choice for festival exposure, screened at the Adana Film Festival and already on its way to the Tokyo competition next month, this debut shows a keen eye for visuals combined with a toned-down elegiac mood that may not be sufficient for mass audiences, but should draw the attention of art cinemas.
The opening sequence in a forest, showing the carcass of a dead animal covered by flies, already prepares the ground for Ozdemir's obsessive theme – death and destruction of nature, forcibly harnessed by man to serve his own immediate interests.
The main character, Dogan (Kanbolat Gorkem Arslan), is an architect suffering from an undefined mid-life crisis, who is told by his doctors to take some time off from the daily rat race hassle. His partner (played by director Ozdemir) encourages him to go back to his home town, far in the mountains of North-East Turkey and on the way, collect some pictures of original water mills they might use in their work.
Before long, Dogan is back in the old country, to find there are no water mills in sight, rivers are polluted, every brook is chained by pipelines to generate electricity, old houses fall apart with no one to care, old bridges in disrepair are hiding new shapeless cement ones behind them. Even the new mosques don't look the way they used to, nor do their Imams. When you want look at real nature, you go to your computer.
His relatives suggests the best place for him to recuperate is the old family farm, far up in the mountains, away from the heavy machinery down in the valley, looking like manmade monsters relentlessly gnawing at everything in their way.
But even the farm, a lyric oasis of peace, is not entirely exempt from the laws of demand and supply. In its breeding pond, fish are no longer allowed to breed naturally now it is all an industrial process, and the customer has the last word.
As he goes deeper into the mountains and away from civilization, the staggering majesty of the landscape takes over. Vast panoramas of slopes and valleys take your breath away, their constantly changing pattern of colors bathed by the sun breaking through dark clouds. Bushes are springing out of the rocks and little yellow flowers are sprinkled between them.
The few conversations with the rare people he encounters on his way, suggest they may be the last ones to feel like he does, and in between them, the occasionally discordant notes of suspicious police surveillance, of restrictions limiting the access to certain areas for no apparent reason or the vague threat of terrorism, are reminders of a present that is never far away.
An ode to nature and an insistent indictment of those who destroy it arbitrarily, Ozdemir's schematic script relies not only on the brooding, troubled presence of Kanbolat Gorkem Arslan in the lead and on the inspired contribution of cinematographer Ilker Berke, but also on the judicious choice of locations and a particularly attentive sound design combining the echoes of nature with brief, timely inserts of Schumann and Mozart.
Two images sum up the entire film. One is a plastic bottle filled up with fresh mountain spring water. The other, a panoramic shot towards the end, starts on mighty massifs climbing up to the skies, covered by dense green vegetation but as the camera smoothly rolls on, without any cut, it reveals an equally imposing mountain panorama, but this time it is rocky, bare, inauspicious and threatening. The entire picture in a nutshell.
Production company: Tutya Film
Executive producer/sales contact: Sadik Incesu, Sadikincesu@gmail.com
Cinematography: Ilker Berke
Editors: Ayhan Ergursel, Muzaffer Ozdemir, Selda Taskin
Production designer: Serpil Ozdemir
Music: Schumann's Kinderszenen, Mozart's Piano Concerto no.24
Main cast: Kanbolat Gorken Arslan, Muzaffer Ozdemir, Muhammet Uzuner, Pinar Ursal