Dir: Gary Fleder. US. 2013. 100mins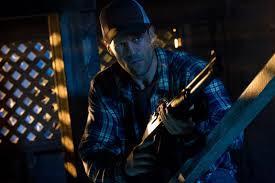 The timing would seem right, coming on the heels of the conclusion of zeitgeist-tapping Stateside television hit Breaking Bad, for a movie in which a self-sacrificing hero walks tall into a small town and takes steps to take down the meth trade. Alas, the punishingly witless action flick Homefront is more a movie from the 1980s than for these times. Starring in a script from Expendables mate Sylvester Stallone, Jason Statham delivers all the expected scowls and growls, but there's no originality, nuance or even dumb-fun catharsis to recommend this inept exercise in punch-'em-up justice.
Cinematographer Theo Van De Sande captures what pungent, on-location humidity of the Louisiana bayou he can, but is undercut by the dictums of action filmmaking.
Though the commercial undertow of The Hunger Games' sequel and Disney's animated family film Frozen, each releasing just in advance of the R-rated Homefront, would seem to provide little in the way of direct competition, their general box office grip — combined with a more direct threat from Spike Lee's revenge-remake Oldboy, opening on only one-fifth the screens — should spell meager theatrical dividends for Homefront. An intriguing supporting cast may draw in curious urban genre enthusiasts, but poor reviews will not help matters.
Statham stars as Phil Broker, an undercover DEA agent by way of Interpol who's working to bring down a Louisiana biker gang peddling meth when things go sideways. Flash forward a couple years, to when retired single dad Broker's 10-year-old daughter Maddy (Izabela Vidovic) has a schoolyard altercation with a bullying classmate. The offending kid's junkie mother, Cassie (Kate Bosworth), takes exception and leans on her meth-cooking, boat mechanic brother Gator (James Franco) to try to intimidate the small town newcomer.
When Gator finds out about Broker's past, however, he sees an opportunity. Hoping to ingratiate himself with those who can expand his little drug empire, Gator taps his carnal acquaintance Sheryl (Winona Ryder) to offer up Broker's location and identity to the imprisoned gangster whose son was killed in the aforementioned undercover sting gone wrong. Said crime boss' emissary, Cyrus (Chuck Zito), turns out to be even more of a psychopath than Gator, however, putting Broker and many others in danger.
Homefront is adapted from one of a series of novels by Chuck Logan featuring the character of Broker, and there's the core of an interesting, layered study of modern-day rural rot here — of a morally compromised sheriff who probably doesn't really want the worst for his town, and other characters who at various points recognize the danger of things spinning out of control. Any subtext from the novel is sacrificed at the altar of lowest-common-denominator stupidity, however.
Stallone's screenplay, full of empty, puffed-up talk of "backwoods reckoning," doesn't effectively sketch out Gator's villainous plot — and if his absence of a good plan is really the point, it doesn't successfully exploit that either. Instead, the script ineffectually passes the baton of chief threat back and forth between Gator and Cyrus, tossing in some tone-deaf match-making instincts on the part of Maddy, who surely wouldn't mind her dad getting together with school psychiatrist Susan (Rachelle Lefevre). The fumbled result plays like a dumb-jock, steroidal riff on Walking Tall, or a cousin of 1989 cult classic Road House, minus any of the latter's fun or sense of self-awareness.
Cinematographer Theo Van De Sande captures what pungent, on-location humidity of the Louisiana bayou he can, but is undercut by the dictums of action filmmaking. Director Gary Fleder (Runaway Jury, Don't Say a Word) has a filmography that leans more on dramatic and psychological thrillers, a fact that certainly shows when it comes time for Homefront's fisticuffs and explosions. The action scenes are terribly staged, with Fleder and editor Padraic McKinley committing spatial awareness homicide via quick cuts from contrasting angles. The most egregious example of this is a third act home invasion sequence with an imperiled Maddy that stands as one of the most baffling action failures of the year.
Franco, sporting scruff and a wily sneer, delivers a suitable amount of scumminess, but nothing on par with his indelible turn in Spring Breakers from earlier in the year. Ryder and especially Bosworth flesh out their distasteful characters to the extent allowed by the script. Statham, meanwhile, skates through this material, his glowering charisma set comfortably on autopilot.
Production companies: Endgame Entertainment, Millennium Films
Domestic distribution: Open Road Films
Producers: Kevin King-Templeton, Sylvester Stallone, John Thompson
Executive producers: Avi Lerner, Trevor Short, Boaz Davidson, Mark Gill, James D. Stern, Douglas E. Hansen
Co-producer: Robert Ortiz
Co-executive producer: Lonnie Ramati
Associate producer: Nicole Williams
Screenplay: Sylvester Stallone, based on the novel by Chuck Logan
Cinematography: Theo Van De Sande
Editor: Padraic McKinley
Production designer: Greg Berry
Music: Mark Isham
Website: www.Facebook.com/HomeFrontMovie
Main cast: Jason Statham, James Franco, Kate Bosworth, Winona Ryder, Izabela Vidovic, Frank Grillo, Rachelle Lefevre, Clancy Brown, Marcus Hester, Chuck Zito