Dir: Chen Hung-i.Taiwan. 2011. 100mins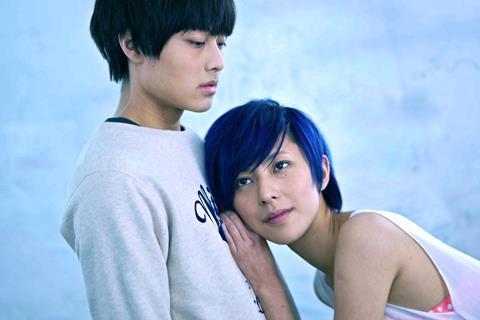 An unconventional and stylish look at interactions between young people in Taipei is at the core of Honey PuPu, blending the worlds of cyberspace and reality as a series of people — who favour their internet nicknames rather than their real ones — argue, romance and search for love against the backdrop of a modern world which drives people apart rather than brings them together.
A film which is hip and stylish, brimming with a youthful energy and oddball romance.
The mention of the word 'cyberspace' tends to imply movie special effects, but Honey PuPu, the second film from Chen Hung-i after 2008's Candy Rain, is a resolutely low-budget affair, relying on the energy of its young cast, a thoughtful freewheeling script and some smart direction to set it apart from other 'youth in turmoil' movies.
It will appeal more to festivals than mainstream distributors but given its hip sensibilities — and that it features Taiwanese pop heartthrob Wang Zi, whose real name is Chiu Sheng-yi — it could get the attention of more daring distributors.
Photographer Vicky (Tseng) — who is obsessed with the declining honeybee population and given to on-air pontificating about global warming — is searching for her lover who used the internet name of Dog (Lee).
She searches in cyberspace — the only visual gimmick is on-screen names and voice-overs — and begins conversations with Cheesemonkey (Lin Chen-shi), Assassin (Lin Po-sheng) and Cola (Chiu), with Cola offering to help Dog. The only clue to his disappearance is a floppy disc which cannot be played in modern computers.
Assassin and Cheesemonkey — who, to confuse matters, also goes by the name of Money — are a couple of intense passions, with Assassin especially unpredictable. The mild-mannered Cola is entranced by the purple-haired Cheesemonkey/Money, much to the anger of Assassin.
Their search for Dog sees them meet the sexually manipulative Playing (Hsieh) — "Anyone who sleeps with her will be damned," says one character — who eventually takes up with Assassin once Cola and Cheesemonkey/Money start their tentative and tender romance.
The film spirals in different directions as the characters search not only for Dog but also for their own sense of direction.
Honey PuPu is disjointed but held together by a firm director — using a number of impressive cinematic styles — who has crafted a film which is hip and stylish, brimming with a youthful energy and oddball romance.
Production company: Red Society Films
International sales: Good Films Workshop, ritachuang@hotmail.com
Producers: Yeh Ju-feng, Terrisa Chen, Wei Yung-chuan
Screenplay: Chen Hung-i, Monica & Shabelle, Lin Fu-jing
Cinematography: Fisher Yu
Editors: Chen Hung-i, Liu Yua-xing, Lin Fu-jing
Music: Barbie
Main cast: Chiu Sheng-yi, Lin Chen-shi, Lin Po-sheng, Hsieh Hsin-ying, Lee Da-chi, Tseng Pei-yu