Dir: Leigh Janiak. US. 2013. 87mins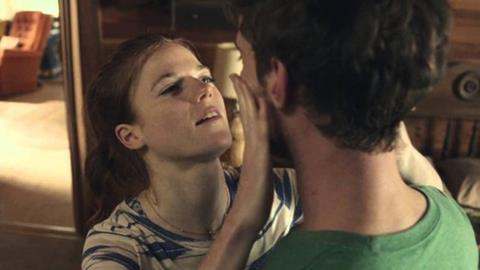 The more explicit it is, the less compelling it becomes but until the final stretch, Honeymoon is an effectively staged, low-tech exercise in escalating unease. Strong central performances from Rose Leslie and Harry Treadaway create an appealing couple that we care about which makes their ordeal more involving.
Honeymoon is an ambitious attempt to make a genre piece that is less visceral and more grounded in reality.
The result is probably too undercooked for genre fans but still too much of a genre film for audiences more attracted to offbeat, atmospheric independent fare. That leaves Honeymoon in a commercial no man's land although it should attract attention in ancillary markets and will stand as a promising calling card for writer/ director Leigh Janiak.
The tale of newlyweds heading to a remote lakeside cabin seems destined to end badly. Expectations of mayhem to follow are initially set aside as Janiak and her co-writer Phil Graziadei invest a good deal of time in establishing Bea (Leslie) and Paul (Treadaway) as blissfully happy. Their relationship is economically sketched and the energetic, charming performances convince us that this is very much a couple in love. Scottish performer Leslie and Englishman Treadaway are entirely believable as an American couple.
The script is also quick to establish the narrative conveniences of a remote location devoid of cell phone or internet service and a point in the holiday season that fails to attract any other visitors to all the neighbouring cabins.
The real story clicks in after twenty minutes when a powerful beam of light sweeps through their cabin in the dark of night and Rose disappears into the woods. Her claim to have been sleepwalking seem unlikely. A jealous Paul suspects a midnight rendez-vous with a former lover but as her behaviour grows increasingly odd and distant it becomes clear this was a close encounter of a very different kind.
Honeymoon mostly shuns special-effects and gore in favour of straight-faced suspense and a focus on the dynamics of a relationship under stress. There is always the sense of a couple on a steep learning curve who maybe didn't know each other as well as they had imagined. Could all this be explained by the fact that he is too overbearing, too possessive? Does she regret not marrying someone more " alpha male"? They are intriguing questions that lend some heft to old-fashioned, traditional genre fare.
If anything the film is guilty of revealing its hand too soon and taking us down a predictable road marked by our familiarity with Invasion Of The Bodysnatchers and Rosemary's Baby.
Honeymoon is an ambitious attempt to make a genre piece that is less visceral and more grounded in reality. It doesn't entirely succeed but the quality of the performances and the understated approach combine to keep you intrigued.
Production company: Fewlas Entertainment
International sales: Magnolia Pictures, www.magpictures.com
Producers: Patrick Baker, Esme Howard
Executive producers: Julie Parker-Benello, Allen Benello, Brandon Dufour, John Dufour, Chris Pilaro, Phoebe Pilaro, Daniel Troiano
Screenwriters: Phil Graziadei, Leigh Janiak
Cinematography: Kyle Klutz
Editor: Christopher S Capp
Production designer: Chris Trujillo
Music: Heather McIntosh
Main cast: Rose Leslie, Harry Treadaway, Ben Huber, Hanna Brown