Dir/scr: Col Spector. UK. 2010. 75mins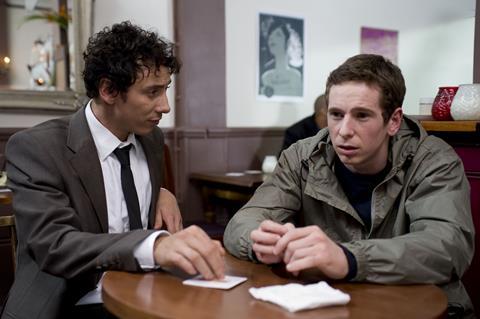 Col Spector's short and sweet second feature is a poignant roam around the pitfalls of modern relationships, which is sufficiently well-observed and engaging that its modest 75 minute running time feels, well, insufficient. Set around the smart flats, pubs and young professionals of north London, it assiduously avoids the cliché of many a run-of-the-mill Brit rom-com, probably at the expense of wider commercial prospects, but its warm humour and natural dialogue should ensure it a small following and distribution prospects.
Spector is carving a niche for himself with his particular understanding of young English men, their reserve, awkwardness and vernacular.
Honeymooner follows the same dialogue and character-based format as Spector's first film Someone Else, and the writer-director clearly has similar preoccupations with relationships and the quest for happiness as Woody Allen, Eric Rohmer and any number of their imitators. But Spector is carving a niche for himself with his particular understanding of young English men, their reserve, awkwardness and vernacular; in Honeymooner, he also paints an affectionate portrait of the bonds between these men as their relationships crumble around them.

The lead character is Fran (Kearns), who, we find out in the opening scene, has been dumped on the eve of his wedding and left in a state of dejection for what would have been his honeymoon. His two best friends – handsome Ben (Coghill) and cocky Jon (Weaver) – urge him to move on, even while they are both engaged in relationships of dubious health, Ben with the beautiful Jess (Haggard) on whom he is cheating with a 17 year-old and Jon with a woman who is giving him marriage ultimatums.

Fran lurches from one day to the next, avoiding the advances of his fortysomething upstairs Spanish neighbour (Roig de Puig), climbing out of pub windows to avoid a bad date, washing down anti-anxiety pills with red wine and confronting the news that his fiancée had been cheating on him. But an inadvertent kiss with Jess one drunken evening in a taxi shakes up out of his malaise and sets him on a new course.

Spector follows Fran's emergence from the fog of rejection at a gentle pace and along the way captures the confusion and commitment-phobia of today's young metropolitan man with precision and piquancy. He is aided considerably by his actors, especially the three leading men. Kearns is an appealing anchor to the drama, all questioning and angst with the world; Weaver marvellously full of himself and flirtatious until the moment when he is dumped, and Coghill suitably self-deceiving as the complacent documentary-maker, awash in double standards.

London makes a visually beguiling backdrop for the characters and, like Woody Allen with New York, Spector makes the city a fundamental part of the film's fabric, alternately comforting and hostile.The film premiered at the Ediburgh Film Festival.

Production company: Honeymooner Ltd
Sales contact: Honeymooner Ltd (brown.alicia@gmail.com)
Producers: Alicia Brown, Col Spector
Executive producer: Radha Chakraborty
Cinematography: Gerry Floyd
Production designer: Saffron Hunt
Editor: Maria Valente
Main cast: Gerard Kearns, Chris Coghill, Al Weaver, Daisy Haggard, Montserrat Roig de Puig, Wunmi Mosaku