Dir: Barbara Kopple. US. 2015. 94mins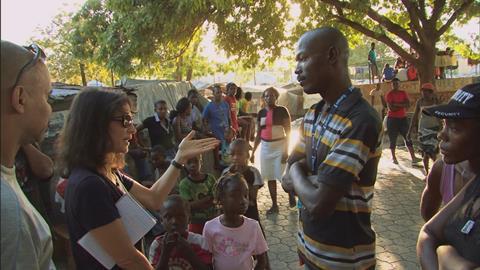 "Victor is talmudic," declares Katrina vanden Heuvel, for the past 20 years editor of The Nation, now its publisher as well. "That's his strength as a mentor." She is referring to Victor Navasky, Publisher Emeritus and her predecessor in both positions and a highly visible public face. His love of argument (hair-splitting implied) is a prerequisite for inclusion in the tight-knit "Nation" family. "We on the left don't have the certainty of the right," explains associate publisher Peter Rothberg.
Scenes about the financial obstacles that have plagued The Nation unexpectedly fascinate.
Skinny and text-driven, resembling a brochure more than a glossy, it has rankled the establishment since it was started by Republican abolitionists at the time of the Civil War, especially since it found a more progressive voice during FDR's New Deal in the '30s. From the evidence of this crisp, fluid honorific by two-time Academy Award winner Kopple (Harlan County, USA; American Dream), it succeeds in a difficult balancing act, between constructive inside discord, on one hand; and on the other, the unity of a team battling external demons, whether political, corporate, or anyone or anything else that threatens democracy and the rights of the individual.
TV and doc-oriented festivals are probable outlets for a commissioned film about a subject a bit esoteric even on its home base. (Hot Type kicks off a year of celebratory anniversary events for the magazine.) The director's name is a selling point, as is its fit into the new genre of "praising print press" that includes The September Issue (Vogue), Page One: Inside The New York Times (The New York Times), and The 50 Year Argument (The New York Review of Books).
Sales should be respectable once word gets out that Hot Type is the sturdiest, most cinematic of the lot (even if Scorsese is co-director of The 50 Year Argument). Witness its elegant long travelling shots and inviting pre-credit montage, set to Latin American music, in which keyboards lead us to back to the first issue in 1865, then forward from there to the edition following 9/11. It has its world premiere February 27 in the cherished closing night slot of the estimable annual Documentary Fortnight at New York's Museum of Modern Art.
Kopple shoots inside editorial meetings rife with both disagreement and such shared objectives as, in vanden Heuvel's words, "treating journalism as a public good." Charismatic TV commentator Rachel Maddow calls the magazine "mission-driven." (No entertainment celebrities here among the outsiders interviewed; rather, journalists of unquestioned integrity from the left, of course.) According to long-time contributor Amy Wilentz, who wrote extraordinary articles on the dire situation in Haiti three years after the devastating earthquake, and whose explanation of 'facts on the ground' helps us understand the challenges to journalists at media like "The Nation" committed to dissecting complexity no matter how far it veers from conventional wisdom:
The Nation is like an octopus that holds in everyone. You get to be yourself….Your opinion can deviate widely, and they will still publish it. They want their writers to be thinkers.
Wilentz's field work grew out of London correspondent D.D. Guttenplan's wisely activated suggestion several years ago "to move to reporting rather than hiring professors from Columbia." Easier said than done. "Political conventions used to be exciting," says vanden Heuvel. "Now they are scripted. You just find different ways to report about them." Different, but neither sensationalistic nor boring. Navasky quotes the very first sentence from the initial issue in 1865: "The week has been singularly barren of exciting events." He also notes that "truthfulness" is a primary objective. How do you make important dullness zing within the boundaries of veracity? With writers who are both imaginative and committed, progressive wordmasters.
How does The Nation maintain its purity? Lack of advertisers is the primary factor. What other publication could have come out against cigarettes as early as 1962? Or run Ralph Nader's "The Safe Car You Can't Buy" in 1959? Another is the direction of its reach. "(It gets) close to truth, because it's not concerned with getting close to power," says veteran political commentator Bill Moyers. No quid pro quo. Its sights are set downward.
"Great changes come about from movements below," says vanden Heuvel. Following clips of his expose of the role water-wasteful meat-processor Cargill played in perpetuating a drought in West Texas, and the effect the plant's closing had on local residents, reporter Sasha Abramsky, taking landward the much-copied verbiage of the otherwise infamous Admiral William Halsey, equates his reportage with his employer's calling. "The common theme here is big issues hitting ordinary people," he tells Kopple.
Several scenes depict the publication process, but these are painless. More trying are too many gratuitous short scenes of management staffers, an egalitarian courtesy but a distraction, as if the producers and/or director forgot that people who don't work there constitute the potential audience. Kopple spends too much time on the well regarded internship programme, although a good family point is made that it aids in grooming the next generation of writers (both vanden Heuvel and Guttenplan did their time).
Sequences like the one with Abramsky are the most effective. First, we see clips from the site of an assignment; then the writer elaborates on the subject and how it and the journalistic strategy suit the magazine. Kopple deftly connects the stories by topic or location, e.g., John Nichols's exemplary coverage of the Scott Walker recall vote in Wisconsin, followed by shots of Nation pieces from 1952 and 1953 slamming Senator Joseph McCarthy, the state's notorious witchhunter.
Scenes about the financial obstacles that have plagued The Nation unexpectedly fascinate. The solutions (Navasky's area of expertise) are novel: a Broadway play-like investment strategy; cruises where top management holds court before members of the sixtysomething subscription demographic. Perhaps only half-jokingly, columnist Eric Alterman says that "Navasky paid attention to business in part by impoverishing the writers."
The photogenic, articulate vanden Heuvel calls the magazine's contentious take on journalism losing forward. "Sometimes in losing, you win victories down the road," she claims. That stance sheds bright light on a tenacity that has persisted for a century and a half.
Production company: Cabin Creek Films
International sales: Cabin Creek Films, www.cabincreekfilms.com,
Producers: Suzanne Mitchell, Madeleine Akers
Executive producer: Hamilton Fish
Cinematography: Gary Griffin
Editor: Richard Hankin
Music: Max Avery Lichtenstein
With: Katrina vanden Heuvel, Victor Navasky, Sasha Abramsky, John Nichols, Richard Kim, D.D. Gutenplan, Amy Wilentz, Betsy Reid