Dir/scr: Leander Haussmann. Germany-Austria. 2011. 110mins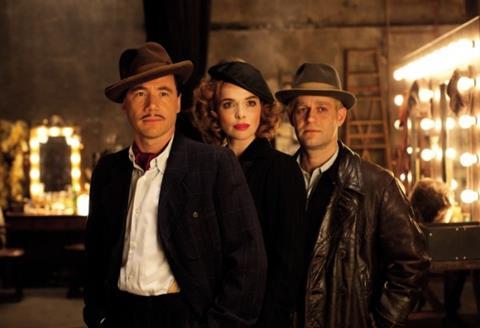 A vaudeville account of World War II history, centred on two German cabaret artists who impersonate Hitler and Stalin, Hotel Lux could have been a train crash. But the madcap energy of the exercise just about keeps the film's lurching dramatic wagons on track, partly thanks to Haussmann's deft handling of the film's comic-dramatic-farcical tone, partly to German comedian Michael 'Bully' Herbig's full-on performance as an unaligned artiste and lady's man surviving on his wits in a minefield of political intrigue and back-stabbing.
Hotel Lux is a clever, mostly entertaining historical comedy romp.
Plenty of the film's characters are part of the historical record - among them most of the denizens of Moscow's Hotel Lux, where leading international communists were housed in a climate of fear and suspicion fomented both by Stalin's secret police and internal feuds and betrayals. But Haussmann is not interested in historical accuracy. Hotel Lux presents totalitarianism as farce, taking delight in stretching the audience's credibility – as when it arranges for Herbig's Stalin imitator to become a confidant of the man he impersonates.
Still, this will not be an easy film for distributors to place. With its ramshackle picaresque structure and tongue-in-cheek rapport with the audience it lacks the dramatic unity and emotional heft of another recent retro exercise, The Artist. The subject matter suggests an older demographic – which the breakneck pace and barrage of walk-on historical personages may alienate.
Foreign comedies don't often travel; and Herbig, generally a big draw in Germany and Austria, has little purchase elsewhere. First weekend results in Germany were disappointing, with Hotel Lux placing last of four new releases in ninth position. But the film's Rome film festival international debut coincided with an Italian distribution deal (Archibald Film), and other territories may take a punt on a historical romp that has a certain TV and DVD shelf life.
Spanning around five years, the story kicks off in Berlin in 1933 in a Jewish-run variety theatre where comedians and best friends Hans Zeisig (Herbig) and Siggi Meyer (Vogel) do cabaret impersonations of, respectively, Stalin and Hitler. Part two is set in the dingy, rat-infested Hotel Lux in Moscow during the 1938 culmination of Stalin's Great Purge (Russia being the only country that the Hollywood-bound Zeisig could secure a forged visa for).
In between, as Nazi oppression shuts down the show, Jewish Meyer joins the communist underground, while Zeisig gets a love interest in the form of Frida Van Oorten, a feisty but deep-down-fragile Dutch communist militant whose contempt for Zeisig's apolitical, womanising ways is, naturally, a prelude to passion.
In Moscow under an assumed name and wearing a false beard, Zeisig is mistaken for Hitler's personal astrologist and ends up reading the stars for Stalin himself - an avuncular psychopath who smokes Lucky Strike and shoots his interpreter when he needs a bit of privacy. Frida and, eventually, Meyer also pop up, while Zeisig is treated with wary respect by the denizens of the Lux - a cast of future Iron Curtain party cadres like Walter Ulbricht, the East German head of state who would supervise the building of the Berlin Wall (in the Lux, he's shown making one out of sugar cubes).
The costumes and production design are tasty, the lighting and camerawork atmospheric, while the lush full orchestral soundtrack veers between sentiment and whimsy. But in the end the whole thing smells a little too much of old-fashioned greasepaint. Hotel Lux is a clever, mostly entertaining historical comedy romp, but it struggles to say anything that resonates in the here and now.
Production company: Bavaria Pictures
International sales: Bavaria Film International, www.bavaria-film.de
Producers: Gunter Rohrbach, Corinna Eich
Cinematography: Hagen Bogdanski
Editor: Hansjorg Weissbrich
Production designer: Uli Hanisch
Music: Ralf Wengenmayer
Main cast: Michael 'Bully' Herbig, Jurgen Vogel, Thekla Reuten, Valery Grishko, Alexander Senderovich, Juraj Kukura