Dir: Genndy Tartakovsky. US. 2012. 92mins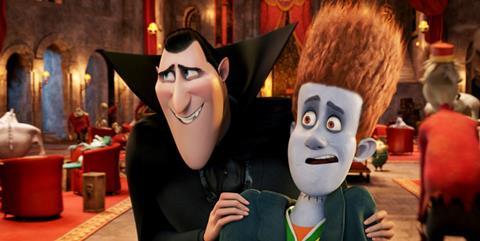 High-value animation gets wrapped around a slapdash story more suited to a Saturday morning cartoon in Hotel Transylvania, an animated film that tries rather unsuccessfully to meld empty nest anxiety with a curious, half-sketched tale about a getaway resort for monsters. Broad, lazy storytelling sinks producer-star Adam Sandler's vehicle, which lacks the snap and distinctiveness of something like the recent ParaNorman.
Samberg's bouncy, easygoing patois recalls a cousin of Scooby-Doo's Shaggy, but Sandler's accent as Dracula isn't exactly a meticulously crafted thing.
Sandler's previous holiday-branded foray into animation, 2002's Eight Crazy Nights, failed to capitalize on his brand, grossing under $24 million. While the slightly broader conceit of this story suggests a decent opening weekend, Hotel Transylvania isn't a Halloween movie, exactly, and it should be met with critical pans and fairly indifferent word-of-mouth that will limit its theatrical earning power before it settles into rotation in cable television and other ancillary markets as an adolescent babysitter.
When, on her 118th birthday, vampire Mavis (voiced by Selena Gomez) seems ready to finally go out and experience the world for herself, her worried and overprotective single father, Count Dracula (Sandler), constructs an elaborate ruse about the scariness of humans to scare her and keep her from leaving his side. They live together in a lavish hotel of Dracula's design, where an assortment of monsters — the Invisible Man, the Mummy, the Werewolf, Frankenstein and his bride — have all gathered to celebrate Mavis' benchmark birthday.
A goofy human backpacker interloper, Jonathan (Andy Samberg), however, stumbles across Dracula's lair. Panicked, the Count endeavors to conceal his identity, lest it freak out his guests, and also try to douse any flickering flames of attraction between Mavis and this curious newcomer.
Director Genndy Tartakovsky and editor Catherine Apple serve as taskmasters, driving the movie at a blistering pace. But they're unable to impress a unifying vision upon the film, either in terms of tone or look. Visually, Hotel Transylvania has some standout sequences, but the scenes that work best in 3-D, including a sequence on flying dinner tables, feel like awkward inclusions.
The screenplay is credited to Peter Baynham and frequent Sandler collaborator Robert Smigel, but a long list of additional material contributors in the end credits includes relatives of Sandler. This über-collaborative narrative practice is especially common, of course, in animated movies, but Hotel Transylvania feels especially beholden to the undisciplined rhythms of Sandler's more banal comedies, where digressive jocularity is valued above character consistency or narrative clarity.
In Hotel Transylvania, there are gags throughout but no real standout distinctness with regards to the many monster characters, which feels like a big missed opportunity. Everything revolves around manic bits staged for momentary effect, and not serving the characters or part of a deeper world.
Furthermore, holes in logic are common. Though given no real set-up, Dracula can pause time, so when he employs this trick in certain situations but not others it makes no sense. And while a backstory reveals Dracula's reason for fearing and distrusting humans, everyone else just seems to take him at his word that humans are ghastly creatures. There is no real reason for the hotel's existence, in other words; Hotel Transylvania's inversion of monster clichés is about an inch deep and still not that wide.
The casting of singers (Gomez, CeeLo Green) lends itself to a couple half-hearted musical numbers, which don't really connect. Samberg's bouncy, easygoing patois recalls a cousin of Scooby-Doo's Shaggy, but Sandler's accent as Dracula isn't exactly a meticulously crafted thing. It will at times remind some viewers of the foul-mouthed goat sketch from his 1996 comedy album What the Hell Happened To Me?, which may actually provide more diversionary amusement than what unfolds on screen.
Production companies: Columbia Pictures, Sony Pictures Animation
Domestic distribution: Sony Pictures
Producer: Michelle Murdocca
Executive producers: Adam Sandler, Robert Smigel, Allen Covert
Co-producer: Lydia Bottegoni
Screenplay: Peter Baynham and Robert Smigel, based on a story by Todd Durham and Dan Hageman & Kevin Hageman
Art directors: Ron Lukas, Noelle Triaureau
Production designer: Marcelo Vignali
Editor: Catherine Apple
Music: Mark Mothersbaugh
Visual effects supervisor: Daniel Kramer
Website: www.WelcomeToHotelT.com
Main voice cast: Adam Sandler, Andy Samberg, Selena Gomez, Kevin James, Fran Drescher, Steve Buscemi, Molly Shannon, David Spade, CeeLo Green, Brian George, Luenell, Jon Lovitz, Chris Parnell