Dir/scr: Paul Fenech. Australia. 2012. 107mins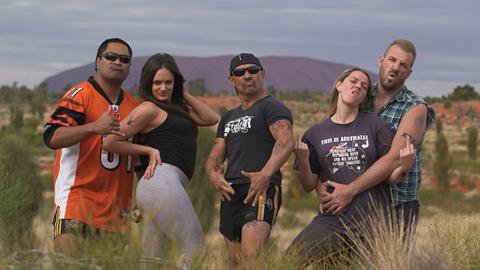 This is a very loud movie for bogans. For those not in the know, the Oxford English Dictionary only recently added the Australian and New Zealand term 'bogan' as "an unfashionable, uncouth, or unsophisticated person, esp. of low social status".
It's unlikely that any movie has ever had such cheerfully obscene, f*ck-filled dialogue.
Director/writer/producer/financer/star Paul Fenech knows his target audience well and here he serves up buckets of gross, drunken, sex-crazed, violent, foul-mouthed, racist fun at a frantic pace. It opens locally November 1 on more than 150 screens. The bogan demographic will delight in its wild, politically incorrect distortions; mainstream moviegoers will be wary, if not hostile; internationally, the brazen comedy could be viewed as a particularly aggressive Down Under curiosity.
Fenech has ruled bogan territory before, with his five television series of Fat Pizza for the SBS network, two of Swift and Shift Couriers, and a first series of Housos. His 2003 movie version of Fat Pizza did excellent home business. There's no doubting his instinct for bruising working class humour — think The Three Stooges on Welfare — and he has developed a group of like-minded, unrestrained comic actors who consistently let rip.
The 'housos' of the title — pronounced 'how-zoes' and short for the subsidised residents of public Housing Authority properties — come from Sunnyvale, "the worst suburb in Australia", described lovingly as "a shit sandwich at a picnic". Here we meet such characters as Bazza, Chazza, Gazza, Wazza and Kazza, out of work, on the grog and communicating at the absolute top of their voices. When Chazza's mum Rayleen dies, a group of Sunnyvale regulars decide to scatter her ashes (cling-filmed into one of her UGG boots) from Uluru — which is determinedly called Ayer's Rock, its earlier un-PC name.
Some of the Pizza/Housos regulars are looking rather mature for the naughtier action, but Elle Dawe is fearlessly provocative as the wiry Chazza, always in a grubby t-shirt that says 'This is Australia', and Fenech himself, despite his very short shorts, is sympathetic even while endlessly guzzling whisky. Brutally brisk editing by David Rudd matches the non-stop action. It's unlikely that any movie has ever had such cheerfully obscene, f*ck-filled dialogue.
Production companies: No Authority Films, Antichocko Productions
Aust/NZ distribution: Transmission Films
Producers: Paul Fenech, Joe Weatherstone
Executive Producer: Serge Lacroix
Cinematography: Mike Kliem
Editor: David Rudd
Website: www.housosvsauthority.com.au
Main cast: Paul Fenech, Jason "Jabba" Davis, Elle Dawe, Kevin Taumata, Vanessa Davis, Russell Gilbert