Dir: Lynn Shelton. US. 2009. 92mins.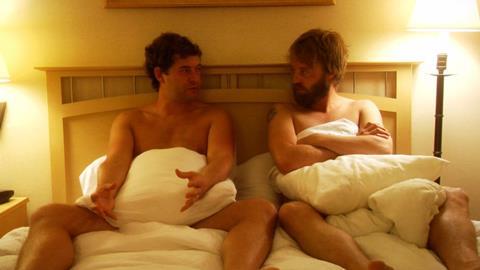 One of the hits of the US dramatic competition section at this year's Sundance Film Festival, Humpday is the most accessible film so far to come out of the so-called Mumblecore movement, a series of low budget dialogue-heavy character pieces about American twentysomethings many of which involve the same directors and actors. In fact Lynn Shelton's likeable, often hilarious, third feature isn't so far removed from Judd Apatow's cannon of comedies about mediocre-looking schlumpy guys and their tender bromances.
Duplass and Leonard have an appealing chemistry as the two men battling their pride, fear and jealousy
Magnolia Pictures, which snapped up worldwide rights in Park City for a mid-six figure sum, should score some strong specialized numbers for the film which will be a must-see for hip young upscale audiences of both genders and generate some strong word of mouth. International buyers will be more wary about the prospects of a no-frills American indie talkfest, although the concept here - two straight guys decide to sleep with each other on a dare – has some real marketing value in terms of grabbing media attention and piqueing the interest of sophisticated city crowds.
Some complained in Sundance that the central conceit was too thin to merit a full-length feature, albeit only 92 minutes. But Shelton's story goes beyond mere bromance into an incisive study of masculinity today. The fact that the men on show are American is beside the point: viewers all over the world will recognize their traits. It's a movie that could become a talking point for press and audiences, much like that very different portrait of modern man, In The Company Of Men 12 years ago.
Mark Duplass, an amiable actor and film-maker who is fast gaining traction in Hollywood, plays Ben, a conventional young man who works nine to five in Seattle and is happily married to, and trying for a baby with Anna (Delmore). One night his old college buddy Andrew (Leonard) arrives on their doorstep after several years traveling around the world and living a wild uninhibited life.
The following evening, Ben joins Andrew at a pot-fuelled bohemian soiree with a group of young artists and, in an effort to prove he still has a wild streak, ventures the idea that the two friends enroll for amateur porn festival Humpfest with a film of them having sex with each other. This boundary-breaking short, they decide, will be "beyond gay".
When sobriety kicks in the following day, Ben is faced with a double dilemma - of trying to get out of the sex-with-Andrew idea and, once that is out of the question, of telling Anna that he plans to cheat on her with his best male friend.
The film starts to reveal darker shades when the revelation provokes a jolt to the marriage and Anna comes out with her own confession. Shelton and her cast, who improvised much of the dialogue, explore the nature of growing up, accepting responsibilities and surrendering youthful ideals. Duplass and Leonard have an appealing chemistry as the two men battling their pride, fear and jealousy and unable to communicate frankly despite their years of friendship.
Do the two guys have sex? That question is only answered in the excruciating final scene when they arrive at a hotel room and strip down to their boxers. While they awkwardly attempt to kiss, Shelton pans down to a wonderful shot of their flabby bellies touching. In that one affectionate shot, Shelton takes the wind out of their macho sails and exposes the two men for the sweet vulnerable fools they are.
International sales/US distributor
Magnolia Pictures
(1) 212 924 6701
Producer/screenplay
Lynn Shelton
Executive producer
Dave Nakayama
Cinematography
Benjamin Kasulke
Production designer
Jasminka Vukcevic
Music
Vinny Smith
Editor
Nat Sanders
Main cast
Mark Duplass
Alycia Delmore
Joshua Leonard
Lynn Shelton
Trina Willard