Minnie Driver stars as a high school teacher in Marc Evans' Swansea set musical feature which is being sold by Independent at the forthcoming AFM.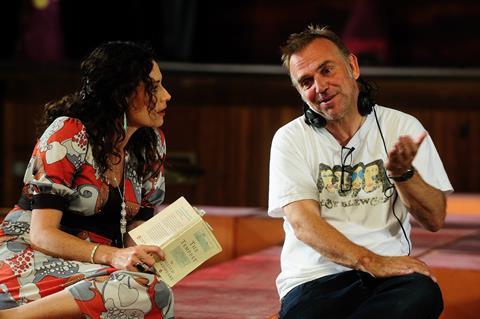 Synopsis: Minnie Driver stars as a drama teacher at a high school in Swansea who sets about putting on a rock 'n roll version of Shakespeare's The Tempest, during the hottest UK summer on record in 1976.
Director: Marc Evans
Writers: Laurence Coriat
Producers: Jon Finn, Dan Lupovitz
Cast: Minnie Driver, Aneurun Bernard
Music: Joby Talbot (Is Anybody There?) is composer and Jeremy Holland Smith (Billy Elliot) is musical director.
Budget: $5m (£3.2m)
Financing: Wales IP Fund, Film Agency For Wales, pre sales from eOnet, UK tax credit, Aegis, Magna, Welsh Assembly Government through the Single Investment Fund.
International Sales: Independent
Distribution: eOne (UK)
Language: English
Countries of Production: Wales
Status: Post Production (Lip Sync)
Release date: Spring 2011.
"I remember watching American Grafitti and Dazed and Confused and thinking, why don't we do these films which deal with the tribal nature of youth like in the US..and I realised that it has a lot to do with the that fact that when we were growing up we were stuck in Welsh comprehensives in the rain, they were out driving cars in the sun," laughs Welsh writer/director Marc Evans, who recently wrapped high school musical film Hunky Dory in Swansea.
"That's why we decided to set it in the summer of 1976, because it was the hottest summer on record," explains Evans. "And it also ended up being a really interesting year musically."
Hunky Dory centres around a drama teacher (played by Minnie Driver) in a high school in Swansea who sets about putting on a rock 'n roll version of Shakespeare's The Tempest.
It may sound like Wales' answer to Glee or High School Musical, but Evans and producer Jon Finn actually came up with the idea 8 years ago, after making the 2002 dark thriller My Little Eye, together. The idea was put on hold, however, when Finn went off to produce the stage version of his British hit film Billy Elliot and Evans went on to make three features, Trauma, Snow Cake and most recently Patagonia, starring Matthew Rhys, which just screened at the London Film Festival, also written by French born Laurence Coriat, who Evans enlisted to write the screenplay for Hunky Dory.
"It's cross genre, not a straight musical. It has an authenticity and a subtext which is about being a teenager, and the loneliness and mood swings" says Evans.
The film features new versions of 10 songs from the 70's including tracks from David Bowie, Nick Drake and the Beach Boys, which were recorded with a 46 piece orchestra for the film. "It is not about people bursting into song though. It happens for a reason," says Finn who is already anticipating a soundtrack and possibly even an Arena tour.
"It shares qualities with Glee and High School Musical but it also has shades of Billy Elliot or The Commitments," says the film's third producer Dan Lupovitz, who originally came on board in a financing capacity, but after his plans to establish a film fund fell through, decided to stay on the project as a producer. "It is just a really good script and the characters and dialogue are very relatable," adds Lupovtiz, who is based in LA, and whose credits include the 2007 film Death Defying Acts.
One thing that Evans was keen to steer clear of, was the clichéd image of the era. "We have tried to present the 70s in a way that isn't over stylised in terms of clothes and branding. We had a no wigs rule. We want the audience to feel like they are inside the period, but not overly aware of it."
When it came to casting, the film-makers always had Minnie Driver in mind. "We knew she liked music, so we sent her the script, and heard back that she wanted to do it," says Finn.
So, how did she cope with the Welsh accent? "She has Welshed up really well," laughs Evans, who was born, and still lives in Wales.
Starring opposite Driver as her fellow teacher and love interest is Welsh born rising star Aneurun Bernard, who "we came across straight out of college," says Evans. Since casting him, Bernard has also gone on to win a 2010 Olivier award for his performance in West End musical Spring Awakening.
In order to cast the rest of the film, the team went on a hunt of local schools. "We went round every school in South Wales. And found some phenomenal actors and singers, who are seriously talented."
International sales on the project are being handled by Independent, who will be tempting distributors with a teaser at the forthcoming American Film Market (AFM), although the UK is already sewn up, with eONe due to release the film next spring.