Dir/scr: Gerard Johnson. UK. 2014. 112mins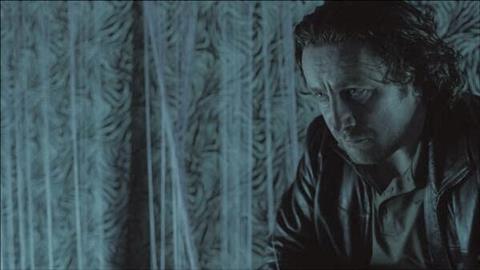 Visually arresting and brutally slick, writer-director Gerard Johnson's second feature Hyena is a tough crime thriller that, while it may not be for the faint-hearted, is made with control and real skill, featuring a great soundtrack (and impressive sound design) and a great sense of its gritty West London locations. More Bad Lieutenant than 22 Jump Street, this police thriller is a tough watch, but confirms Johnson as a rising cinematic talent.
Gerard Johnson is trying to put his own mark on a much-filmed genre.
The opening night of the Edinburgh International Film Festival – in truth an odd choice given its abundant violence and drug-taking, never too popular with black-tie wearing sponsors – it needs smart distributors to make the best of it, and while the cast is relatively low key (most are well known UK television performers) it could well also appeal to genre festivals.
Johnson again casts his cousin Peter Ferdinando in the lead role (as he did in his debut feature Tony), impressively playing a corrupt London detective who finds himself way out of his depth when he comes up against a brutal pair of Albanian brothers who were bloodily taking over the local crime scene. The film has a clever enigmatic quality as this anti-hero sets about looking after himself - it is never clear whether he is a drug-fuelled coward or a reluctant hero, with things getting even more complex as the film heads towards its bloody resolution.
Forget the fluffy and romantic West London area of Notting Hill as seen in the much-loved rom-com of the same name. For Hyena the area is a hotbed of gangland violence, human trafficking and police corruption.
The film opens in suitably off-kilter fashion with tough-looking Michael Logan (Ferdinando) taking a call, and then driving into the night to pick with three equally brutish looking types (Neil Maskell, Tony Pitts and Gordon Brown). Putting on police stab vests and caps, they are let into the back door or a nightclub and set about beating up the guys running the place. Initially it is easy to assume they are fake cops, but after handcuffing the men and helping themselves to cash and drugs it is clear they are cops of the corrupt variety.
After witnessing a nasty murder of a Turkish drug dealer he was planning on going into business with, Michael finds himself up against ruthless Albanian brothers Nikolla (Orli Shuka) and Rezar (Gjevat Kelmendi) who committed the killing and are switching from prostitution and human trafficking into the drugs trade. Michael assumes he can do a deal with them and use his police position to control the brothers, but their sheer vicious brutality sees him heading to an impossible position, and as bodies start to fall Michael is caught in a spiraling descent of drug-fuelled fear and self-doubt.
Ferdinando's striking performance is the powerful core of the film (he is the 'hyena' of the title, increasingly rabid and vicious as he splits away from his pack) as gets better and better as the film develops and Logan finds himself having to struggle and strain to survive. Stephen Graham (seen in the US in Boardwalk Empire, but a longtime strong UK performer) makes a smart – though limited – impact as Logan's former partner with an axe to grind, while fans of Kill List will be pleased to see the always impressive MyAnna Buring and Neil Marshall in a film together again. Best of all, though, is Tony Pitts as the spectacled and casually racist Tony, a cop-partner of Logan keen to lead his own hyena pack.
Beautifully shot by Benjamin Kračun and with moody sound design and an evocative soundtrack by THE THE (aka Matt Johnson), the film is vaguely familiar in the sense that corrupt cops are a much-loved movie genre, but it has it own sense of tough identity as it heads towards a climax that may leave some confused, but at the very least will have them debating exactly what happened. There is a sense that it is influenced by Nicolas Winding Refn (it is closer to Pusher than traditional UK crime films), but at least Gerard Johnson is trying to put his own mark on a much-filmed genre.
Production companies: Number 9 Films. Film4
International sales: Independent Film Company, www.independentfilmcompany.com
Producers: Stephen Woolley, Joanna Laurie, Elizabeth Karlsen
Executive producers: Katherine Butler, Sam Lavender, Norman Merry
Cinematography: Benjamin Kračun
Editor: Ian Davies
Production designer: Marie Lanna
Music: THE THE
Main cast: Peter Ferdinando, Stephen Graham, Neil Maskell, Richard Dormer, Elisa Lasowski, MyAnna Buring, Tony Pitts, Gordon Brown, Orli Shuka, Gjevat Kelmendi