Dir: Lixin Fan. China. 2014. 88mins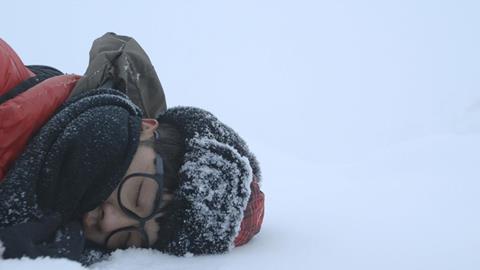 The singing competition has conquered China, delivering an audience of tens of millions. In I am Here (Wo Jiu Shi Wo) Lixin Fan follows the contestants competing for the popular show Super Boy, where he finds a perplexing tangle of changes in Chinese society.
I Am Here, which has approval to be shown in China, is not the kind of independent probing doc that takes on the country's prison system or its many layers of corruption.
The director's previous documentary, Long Train Home, tracked transformations in China by following marathon trips to family holidays by Chinese workers who migrated across the country for work. The image of travelers huddled on the top of train over a new bridge that spanned an enormous gorge captured his theme of a new challenge to family unity.
His inside look at singing competitions – hugely popular shows in China – should play widely in that country and throughout Asia. The film's deceptively probing analysis of the young performers' attitudes toward success and competition will get through to some critics on the festival circuit, ensuring play on Western television, even though the music doesn't always hit the mark.
I Am Here, by the Chinese director who lives in Montreal, is structured like a backstage reality show, with teen singers (of varying abilities) rehearsing, sleeping in a big studio/room, horsing around, and wandering on hillsides and other photogenic spots. The doc about the insides of a music competition is wrapped in kitsch decor and the unthreatening softness that comes right out of Super Boy's marketing department.
Yet Fan's film crew is something of a Trojan Horse, albeit a gentle one. It shows young men preparing for the shows in tough training sessions with hardened producers and witnesses the same boys resist pressure to oust each other from the competition.
We await the moment of truth in the most sugary of conditions. Boys arrive from around China to compete for the year's Super Boy status. Like the Backstreet Boys, Menudo, or New Kids on the Block they are given clothes and stage personalities – one even wears glasses with no lenses – and the march to the televised trials is set in motion.
Yet not everything goes according to plan, in spite of syrupy songs targeted at tearful crowds. The boys talk frankly about their families, especially about their parents' reluctance to speak critically or autonomously. These generational reflections, while potentially dramatic, are the feelings that we're privy to behind a show that follows a set pattern to please millions of female fans.
Aspects of the training regimen – comfortable, even privileged compared to everyday life for most Chinese – call to mind the re-education camps that enforced communist discipline in the days when China banned rock music and organized the burning of records. The boys are urged to denounce each other, a ploy to bring some backstage drama to the weeks leading up to the show. But they refuse. Is their stance an expression of the socialist comradely approach to work that Chinese regimes spent decades encouraging and now suppress? Would their parents have shown that solidarity? The contradictions spill out.
I Am Here, which has approval to be shown in China, is not the kind of independent probing doc that takes on the country's prison system or its many layers of corruption. It is pretty, thanks to the Super Boy stage set and its make-up department. And the boys don't voice the public/private anxieties of someone like Ai Weiwei, whom the Chinese government has sought to isolate.
But even potential pop stars in China worry about personal expression. Chinese authorities shouldn't be too concerned. Most of the audience won't watch this rock-doc closely enough to tell.
Production Companies: EE Media, Oriental Companion Media
International sales: Oriental Companion Media sophie.x2304@gmail.com
Producers: Zeng Yun, Liu Jing
Screenplay: Fan Lixin
Cinematographu: Li Hao, Paul Morris
Editor: Xu Jing
Music: Simon Chapelle