Dir: Andrea Molaioli. Italy-France. 2011. 105mins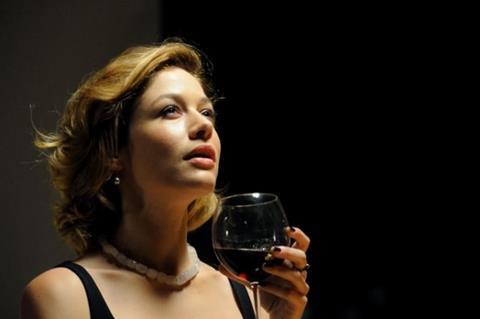 Andrea Molaioli's follow-up to his promising 2007 debut The Girl By The Lake is a well-crafted but not entirely satisfying drama inspired by one of Italy's biggest financial scandals, the 2003 meltdown of food and beverage corporation Parmalat.
The film is lifted by a steady directorial hand on the tiller.
Featuring the ever-authoritative Toni Servillo in the role of a stern provincial CFO who finds himself out of his depth when his company and its debts go global, the film is good at managing the dramatic tension but less good at easing the story's relevance out from under the financial jargon.
Trying to juggle a cautionary tale about a close-knit family firm getting too big for its boots by fiddling the books, a financial thriller with contemporary relevance, a critique of the old boy's network that dominates the Italian ruling elite and a portrait of a lonely man, Il Gioiellino (literally 'The Little Jewel') never quite makes its mind up what it wants to be.
Released in Italy on 4 March on a middling 170 copies, the film was supported by a marketing campaign based around Leda, the fictitious food and beverage company created for the film. Leda-labeled milk was on offer at the film's press screening, and a company website has been created, complete with ad campaigns and mission statement.
But disappointing first weekend results (with a box-office debut only in tenth place, and low screen averages) showed that this was not enough to win over Italy's tricky middlebrow filmgoing public – perhaps because the Parmalat brouhaha feels like ancient history in a territory that is never short on scandals. Abroad, though several territories (for example Australia) were affected by Parmalat's implosion, Il Gioiellino is going to seem a decidedly niche proposition.
Panning out over a decade, the film charts the rise and fall of Leda, a company whose fortune (like Parmalat's) is based on UHT milk – though as we're reminded more than once that 'milk has no margins', it has diversified into fruit juices, biscuits, and other products. Leda chairman Amanzio Rastelli (Girone) started with a family deli and built from there, and he still runs the expanding company as if it were a small business.
His obsessively private CFO, Ernesto Botta (Servillo) is not family, but has a monastic dedication to the company, that will lead him to suggest an increasingly desperate, and illegal, series of fixes when Leda's debts threaten to sink the boat.
A nicely set up but ultimately rather irrelevant sub-plot follows the relationship between the frostily formal, misogynistic Botta and Laura (Felberbaum), Rastelli's sexy, young business-school-educated niece, who is foisted on the reluctant CFO as a new manager. This goes exactly where we would expect it to and then kind of disappears. The same goes for the film's occasional digs at the Masonic rapport between Church, business, police and state in Italy, which are toyed with in a way that feels like window-dressing.
It comes closest to home in a scene towards the end where the Rastelli and his son go to the country residence of the never-named prime minister in a last-ditch attempt to save their bacon ­– and discover that all he was really interested in was extorting a key striker from their soon-to-be-bankrupt football team for his own side.
The film is lifted by a steady directorial hand on the tiller, a finely judged string-based soundtrack that leads us on an uneasy dance through the action, and an inventive use of sets and locations. The imposing palazzo which Leda ostentatiously uses as its main HQ and the historic town (actually Acqui Terme) where the company is based serve to highlight the littleness and inadequacy of these pale contemporary imitations of Renaissance princes and scholars.
Production companies: Indigo Film, Babe Film
International sales contact: Indigo Film, info@indigofilm.it
Producers: Nicola Giuliano, Francesca Cima
Executive producers: Carlotta Calori, Viola Prestieri
Screenplay: Ludovico Rampoldi, Gabriele Romagnoli, Andrea Molaioli
Cinematography: Luca Bigazzi
Production designer: Alessandra Mura
Editor: Giogio Franchini
Music: Teho Teardo
Website: www.latteleda.it
Main cast: Toni Servillo, Remo Girone, Sarah Felberbaum, Lino Guanciale, Fausto Maria Sciarappa, Lisa Galantini