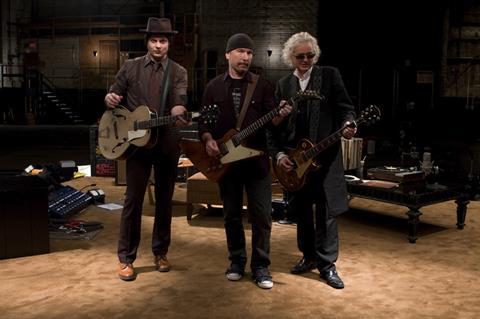 Dir: Davis Guggenheim. US. 2009. 97mins.
When you get down to it, that much-idolised object the electric guitar is basically a plank of wood, some strings and a chunk of circuitry. It's the person wielding it who makes the noise: that's the level-headed gist of It Might Get Loud, a rock-doc that celebrates the instrument without overly fretting (as it were) about the hardware. Essentially a summit meeting between guitar-slingers of three generations - Jimmy Page, The Edge and relative newbie Jack White - this polished, lively feature from An Inconvenient Truth director Davis Guggenheim will gladden the hearts of musos, but is not so fetishistic that it won't find an enthusiastic following beyond the strictly specialist realm. Theatrical potential is robust, and DVD sales should have a long and buoyant shelf life.
The film is built around a rendezvous in a cavernous warehouse, bringing together three revered players: Jimmy Page, already a legend for his studio sessions and work with The Yardbirds even before he founded Led Zeppelin; The Edge, ne David Evans, of Dublin-founded U2; and Jack White, half of back-to-basics blues/punk duo The White Stripes and co-founder of The Raconteurs. Not a great deal of insight emerges from their chats on the sofa, and their relaxed jams on songs by each musician yields only academic interest although the trio at last comes up trumps on an end-credits cover of The Band's The Weight.
However, the real meat is in the assemblage of material about the film's three stars. Divided into a number of loosely thematic sections, the film gives each of the three players a mini-biopic and captures each visiting old haunts. The least riveting presence is The Edge, an affable boffin who admits that the essence of his playing is less to do with virtuoso skill than with a vast panoply of effects pedals. Page, now a sleek white-haired fat cat, comes across as somewhat smug about his achievements, and still manages to moan about Led Zeppelin never getting their fair due from the critics (oh, really'). Still, there's a wonderful moment when he plays a favourite old 45, Link Wray's magnificently greasy Rumble, and Page's face melts in boyish delight. His playing, incidentally, is never less than magnificent.
The real star is Detroit-born White, who cuts through the mystification from the get-go when he cobbles together a makeshift instrument from wood, wire and an old Coke bottle then squeezes some bracing racket out of it: 'Who says you need to buy a guitar" he comments. Throughout, White, his aesthetic built both on punk and on blues at its grittiest 30s peak, is an eloquent advocate for simplicity. He is intermittently seen teaching the rudiments to an identically-dressed nine-year-old Mini-Me who learns his lessons (such as stomping on the fretboard) with alacrity.
Rock scholars will relish Page's Zeppelin recording reminiscences and there's terrific archive footage throughout: including a callow, bouffanted U2 in a very early session, and Page, around the age of 12, appearing on TV as a polite young skiffle player but earnestly confessing his real career hopes lie in 'biological research'.
Production company
Thomas Tull Productions
International sales
The Little Film Company
(1) 818 762 6999
Producers
Thomas Tull
Lesley Chilcott
Davis Guggenheim
Peter Afterman
Executive producers
Bert Ellis
Michael Mailis
Cinematography
Erich Roland
Guillermo Navarro
Editor
Greg Finton