Dir: Hans Petter Moland. Norway-Sweden-Denmark. 2014. 115mins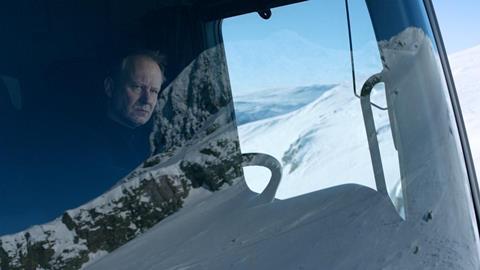 A delightfully droll tale of bloody revenge, Hans Petter Moland's dark and funny In Order Of Disappearance (Kraftidioten) may well fit loosely into the much-hyped Nordic Noir bracket, but thanks to a series of nicely oddball performances and a plethora of killings it could even fall into Coen Brothers or Tarantino territory. While perhaps not to all tastes – and possibly too mainstream for a Berlin competition film – it is a delightfully sustained and engagingly absurd film that demands wide distribution and could just as easily be acquired for re-make rights alone.
Dark humour permeates this playfully droll crime film.
The film, which marks the fourth collaboration between Moland and his lead actor Stellan Skarsgård – they first teamed on 1995 drama Zero Kelvin – and while hyped as an 'action comedy' it is far more a darkly funny crime tale that teeters on the fully fledged underworld blood fest. Skarsgård plays his role of a snowplough driver out for revenge pretty straight, allowing those around him to revel in a series of nicely leftfield characters.
The rather heavy-handed English title quite simply relates to the lengthy list of those who get killed during the film, which Moland cleverly (and rather amusingly) celebrates on screen with an intertitle of a cross and the dead character's name each time a new one is bumped off. While funny for a while, it rather overstays its welcome, but is indicative of the often-playful nature of this quite bloody crime tale.
In wintery rural Norway, mild-mannered, hard-working Nils Dickman (Skarsgård), who has recently been voted the community's 'man of the year' is mortified when his son dies of a drugs overdose. But when he finds that his son was murdered by a drugs gang because of his inadvertent involvement in a drugs scam he opts to take revenge.
His investigations bring him into contact with a series of lackeys for gangster The Count (Pål Sverre Hagen), a longhaired vegan eccentric who make juices for his henchman and provides them with take-away coffee when they are torturing a rival. As the body count increases he gets closer to the Count, but after a botched attempt to hire a hitman to take out the gang boss Nils decides to kidnap the Count's young son as a way of forcing him out into the snowy countryside that Nils knows best.
His actions also end up igniting a war between the Count and a rival Serbian drugs gang, led by Papa (Bruno Ganz, having a fun time) with the scene set for a gun-battle at Nils's depot.
While Stellan Skarsgård plays his role admirably straight - which suits his quiet, straight, persona perfectly - around him there is a lot of dark fun to he had. Whether it is the gay relationship between two of the Counts mobsters; the two local policemen who can't stand the sight of blood; the Count at his juicer making drinks for his gang, or the Serbian mobsters frolicking like children in the snow, dark humour permeates this playfully droll crime film.
Production companies: Paradox, Zentropa Entertainment
International sales: TrustNordisk, www,trustnordisk.com
Producers: Finn Gjerdrum, Stein B Kvae
Executive producers: Peter Garde, Erik Poppe, Stellan Skarsgård, Hans Petter Moland
Screenplay: Kim Fupz Aekeson
Cinematography: Phiip Øgaard
Editor: Jens Christian Fodstad
Production designer: Jørgen Stangebye Larsen
Music: Kaspar Kaae, Kåre Vestrheim
Main cast: Stellan Skarsgård, Bruno Ganz, Pål Sverre Hagen, Jakob Oftebro, Birgitte Hjort Sørensen, Anders Baasmo Christiansen