Dir. Armando Iannucci, UK, 2008, 109 minutes.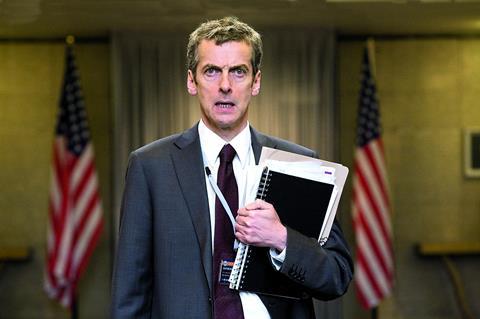 British political satire travels to Washington in this spoof of bureaucratic opportunism as the US decides to go to war. Expanded from Armando Iannucci's critically-lauded BBC TV series The Thick of It, In the Loop's virtuoso script fills the corridors of power with the worst schemers that ambition can assemble .
With its cast of British TV veterans and 109 minutes in which to let its complicated plots explode, In the Loop has an automatic public in the UK ready for its dark look at political ineptitude. US fans of The Office could rally for this one, although its exuberant, boundless cynicism will test the demand for political satire in an Obama-infatuated America.
In the Loop opens as the Prime Minister's foul-mouthed Director of Communications (Peter Capaldi) chides the new Minister of International Development, Simon Foster (Tom Hollander) for his radio gaffe that 'war is unforeseeable.' The ambitious Simon repeats that line at a meeting with US officials who hint at the creation of a 'war committee' and announce an anti-war position paper by young Liza Weld (Anna Chlumsky). On Foster's trip to Washington, the British faction sees that Weld and her State Department boss, Karen Clarke (Mimi Kennedy) and ally General Miller (James Gandolfini) are battling a nasty pro-war faction led by Linton Barwick (David Rasche).
Looking for a justification for war, Barwick seizes on an equivocation made by the bumbling Foster to the press that 'Britain must be ready to climb the mountain of conflict.'
Back in England, Simon locks horns with an angry constituent (Steve Coogan) in his Northampton district over a crumbling wall. News comes that the anti-war paper has been leaked to CNN, and the US demands that heads roll, just as a vote for war goes before the United Nations.
Iannucci directs the political farce as an extended television comedy, with a relentless pace but plenty of breathing room for office feuds, a fling, and the potential rekindling of an old romance between Karen and General Miller.
The inspired script by Iannucci, Jesse Armstrong, Simon Blackwell and Tony Roche, with additional dialogue by Ian Martin, leavens the backstabbing intrigue with obscenities from the depths of the imagination. No curse is left unspoken as the story races forward and taking in all the colourful dialogue will require repeat viewing.
As the screeching enforcer of the British political line, Capaldi is a sinewy Scottish attack dog with no principles, and Hollander is perfect as a lightweight with a tin ear and terminal ambition.
Anna Schlumsky uses her guile as soft earnest power as Liza, the State Department aide, while Rasche is appropriately scornful as a distillation of Bush administration diplomatic arrogance. Gandolfini explores new territory well as a thoughtful military man who, like most everyone else, shifts with the winds.
DP Jamie Cairney and production designer Cristina Casali conspire masterfully to give political locations the right blandness.
Production Companies/Backers
BBC Films
UK Film Council
Aramid Entertainment
Domestic distribution
!FC Films
International Sales
Protagonist Pictures 44 7872 692573
Producers
Kevin Loader
Adam Tandy
Screenwriters
Jesse Armstrong
Simon Blackwell
Armando Ianucci
Tony Roche
Additional Dialogue
Ian Martin
Cinematographer
Jamie Cairney
Editors
Billy Sneddon
Ant Boys
Production Design
Cristina Casali
Main Cast
Peter Capaldi
James Gandolfini
Tom Hollander
David Rasche
Gina McKee
Anna Chlumsky
Steve Coogan
Mimi Kennedy
Chris Addison