Dir: Brin Hill. US. 2014. 105mins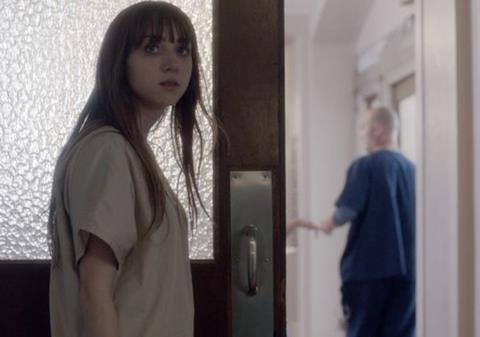 A delightfully sustained fantasy romance as a mis-matched couple share a telepathic link, In Your Eyes (perhaps not the most racy of titles) is a story that could so easily have been mishandled, but as scripted by Joss Whedon it has the perfect balance of humour and tenderness, with just a dash of danger and even melodrama on the side.
In Your Eyes may have a fantasy plot, but at heart it is a rather old-fashioned romance, as boy and girl have to overcome every hurdle to try and be together.
While perhaps too quirkily low key to be a box office smash (plus it went straight to VOD in the US after its Tribeca Film Festival world premiere), it is driven by delightful central performances by Zoe Kazan and Michael Stahl-David, and as ever Whedon is terrific at warm and witty dialogue, with the couple's 'through the ether' dialogue always charmingly convincing.
The film may lack the higher profile cast of Whedon's black-and-white Shakespeare film Much Ado About Nothing, but it brims with a delicate fantasy charm and sense of romance. There are a few moments of supposed 'mild peril' but it is a film that is resolute in its core notion that love will conquer all.
The delightfully quirky Zoe Kazan plays mild-mannered Rebecca, the almost trophy wife of a busy New Hampshire doctor/administrator (Mark Feuerstein) who tries to keep a keen eye on so her occasional seizures don't impact on his career. She has had incidents the past, but after blacking out at one dinner she finds she can see fuzzily through the eyes of Dylan (gently charming Michael Stahl-David), a reformed thief living in the New Mexico desert who happens to have been punched at exactly the same time she blacked out.
It seems they have been feeling each other's pains and pleasures ever since she had a sledding accident while at grade school, but that punch seems to open up their telepathic floodgates and now they are able to see through each other's eyes and also talk to each other.
They soon spend all of their time talking – cue shots of her rambling away while out supermarket shopping or him chatting to her while at his work at a car wash – as they see the world through new eyes and grow increasingly closer. And, of course, once they have looked at each other in the mirror (she in her underwear and he with his best stubble and tousled hair) it is clear that sex will soon play part of the equation.
There are some nice subplots involving Dylan's old buddies trying to lure him into a robbery, and a delightful scene where Rebecca tries to coach him through a date with a beautiful local (played by Nikki Read), but once Dylan and Rebecca try their own telepathic version of 'sexting' (mutual masturbation gets a whole new definition) it is clear they need to be together for real, rather than just in each other's minds.
When her husband has her committed to a psychiatric institution because he suspects she is having an affair, it is time for Dylan to start a cross country race to try and save her, with the cops hot on his heals as he uses their telepathic link to coach her in the dark arts of picking the lock to her room.
It all feels rather engagingly low budget (Dylan's car chase involves a paltry two cop cars), but the dialogue is always delightful and never flags in terms of wit or banter while the poppy score suits the tone of the film. In Your Eyes may have a fantasy plot, but at heart it is a rather old-fashioned romance, as boy and girl have to overcome every hurdle to try and be together.
Production company: Night & Day Pictures
Sales contact: CAA, www.caa.com
Producers: Michael Roiff, Kai Cole
Executive producer: Joss Whedon
Screenplay: Joss Whedon
Cinematography: Elisha Christian
Editor: Steven Pilgrim
Production designers: Cindy Chao, Michele Yu
Music: Tony Morales
Main cast: Zoe Kazan, Michael Stahl-David, Nikki Read, Mark Feuerstein, Steve Harris, Jennifer Grey