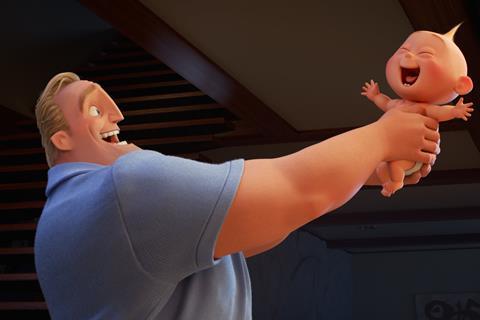 Incredibles 2 has become the only the seventh animated film ever to cross the $1bn mark in global box office.
The Disney-distributed Pixar sequel reached grosses of $574m in North America and $430.9m internationally on Monday (July 30), for a global tally of $1.005bn, Disney reported.
The film becomes Disney's third release – after Black Panther and Avengers: Infinity War - to reach $1bn this year and the company's fifth ever animated and eighteenth overall release to reach the milestone. It becomes Pixar's third billion-dollar earner, after Toy Story 3 and Finding Dory.
With openings in Japan on Wednesday (August 1) and Spain on Friday (August 3), and launches in Italy and Germany set for September, Incredibles 2 could climb further up the table of top grossing animated releases. According to Box Office Mojo, animated releases currently still ahead of the sequel are Frozen (with $1.28bn globally), Beauty And The Beast ($1.26bn), Minions ($1.16bn), Toy Story 3 ($1.07bn), Despicable Me 3 ($1.03), Finding Dory ($1.03bn) and Zootopia ($1.02bn).
The biggest individual territory takes to date for Incredibles 2 include $53.5m in China, $45m in the UK, $37.1m in Mexico, $33.8m in Brazil, $32.7m in Australia, $30.4m in France, $17.6m in Korea, $15.3m in Russia and $15.1m in Argentina.
After setting a domestic record for biggest animated opening ever - $182.7m – over the June 15-17 weekend, Incredibles 2 became the first animated film ever to surpass $500m in North America and now stands as the ninth biggest overall release in US history.