Dir: Barbara Eder. Austria. 2010. 105mins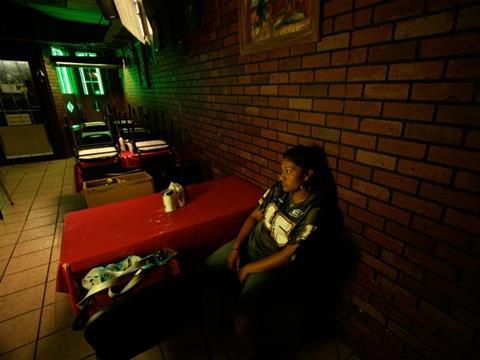 If Barbara Eder's adolescent reminiscences of her year as an exchange student in Brownsville, Texas, are anything like her debut film based on it, this must have been a traumatic experience one would rather forget than remember.
Shot practically like a documentary the film focuses on a system that seems to be a complete failure in every respect and might collapse at any minute.
A sort of fictional documentary, somewhere between Larry Clarke's angry view of America's next generation and Ulrich Seidl caustic take on the world we live in, this disenchanted portrait of a dysfunctional, self-destructive society is vitriolic enough to draw the attention of quite a few festivals, but its fractured narrative and lack of empathy for its characters would make it a hard sell beyond that. Inside America screened in competition at the Sarajevo Film Festival.
The plots - for there are several of them running parallel to each other - converge on a Texas high school which looks scary enough to approach, let alone study in. Metal detector gates, burly policemen and drug-sniffing German shepherds are the daily reception committee, the teachers are far busier training their male students to become great salesmen and teaching their female students to take care of their future babies (for some it's no longer a theoretical option) and tell them all that the essence of the American dream is a house with a garden, a white-painted fence and a nice car parked next to it.
As for the students, almost all of them are of Hispanic origin, some of them legal residents, some not, a few already part of the new bourgeoisie, the others anything from poor immigrants to future criminals. Among them, Carlos (Benavides) the ROTC paramilitary firearms addict, just the right fodder for the next war if he is not packed off to jail beforehand; Manni (Juarez), who has no papers, which means his only option to make a living is drug dealing; his girlfriend Patty (Barrera) whose family would like to marry off to nice rich kid; Aimee (Saldivar), the spoiled brat primed by her mother to become a beauty queen; Zuly (Jaime) living with foster parents and desperate to meet her real mother and Ricky (De Los Santos), the hopelessly confused, shy nerd, rejected by everyone and the regular butt of all their jokes.
Shot practically like a documentary, with a nervous HD camera chasing the kids in their pointless attempts to keep themselves busy and interested, the film focuses on a system that seems to be a complete failure in every respect and might collapse at any minute. Brutal and violent – even sports are out of fashion here – there is little these adolescents can pick up at school and even less at home. Exclusively egocentric, they may be the victims of the system today, but they are certain to be the victimisers of tomorrow.
There is little acting done here - all of the performers appear to be playing themselves, fully identifying with their roles, many of them using their own first names in the part they play. Apparently keeping her own emotions at bay, Eder looks at them all with the bemused, rather shocked eye of a visitor from different planet… namely Europe.
Production companies: AG Scumann/Eder
Producers: Roland Hablesreiter, Peter Janecek
Sales: Constanze Schumann, constanze.schumann@gmx.at
Screenplay: Constanze Schumann
Cinematography: Christian Haake
Editor: Claudia Linzer
Music: Gerrit Wunder
Sound: Gallute Myksite, Atanas Cholakov
Website: www.insideamerica-themovie.com
Main Cast: Raul Juarez, Aimee Lizette Saldivar, Zuleyma Jaime, Luis De Los Santos, Carlos Benavides, Patty Barrera