Dir: James Wan. US. 2013. 106mins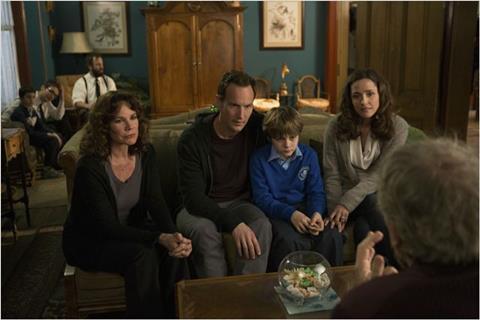 A follow-up to 2011's rather imaginative chiller, which grossed almost $100 million worldwide on a budget of under $2 million, Insidious: Chapter 2 returns all of the major players in service of a story that feels at once convoluted and undernourished. Director James Wan fashions the film as more of a domestic thriller with a supernatural edge, but a lot of potential tension dissipates in a soupy fog of twisted timelines and free-floating motivations.
There's an unfussy, sturdy practicality to Insidious: Chapter 2's scare.
Holdover affection for Wan's The Conjuring — one of the summer's big surprise hits at $260 million worldwide, and one of the most critically well received horror movies in years — will surely benefit Insidious: Chapter 2, as will its PG-13 Stateside rating and a strong social media marketing campaign. The latter has gone out of its way to play on the debut film's robust reception in particular on home video, and peg this as an essential deepening of that story. Much higher returns than the weekend's other wide opener, Luc Besson's mob comedy The Family, is all but assured, but it remains to be seen whether this sequel can vastly improve upon the original film's $54 million domestic haul, and give Saw creators Wan and writer-actor Leigh Whannell another franchise with which to play around.
In Insidious, suburbanites Josh and Renai Lambert (Patrick Wilson and Rose Byrne) grapple with what they believe to be the effects of a haunted house upon the eldest of their two sons, Dalton (Ty Simpkins), only to discover via Josh's mother Lorraine (Barbara Hershey) that Dalton's coma and astral projection may be linked to events of Josh's own childhood. As its title indicates, Insidious: Chapter 2 picks up immediately following the events of the first film, and the death of medium Elise Rainier (Lin Shaye).
Dalton's return to normalcy and the Lamberts' safety is short-lived, especially when Josh starts behaving strangely. Leaning on the research archives of their colleague Elise, ghost-hunting duo Specs and Tucker (Whannell and Angus Sampson) work with Lorraine to try to figure out the history of an offending spirit, leading them to learn more about an old coma ward patient, Parker Crane (Tom Fitzpatrick), whose history is interwoven into both films.
Wan again showcases a knack for inventive, low-fi ways of eliciting dread. It undoubtedly helps that he here has the benefit of working with familiar collaborators. Editor Kirk Morri, composer Joseph Bishara and production designer Jennifer Spence return from the first film, with the latter transitioning from the position of art director; cinematographer John Leonetti, meanwhile, has worked with Wan before on multiple films.
Taken on their own, in piecemeal fashion, many scenes work quite well. There's an unfussy, sturdy practicality to Insidious: Chapter 2's scares, even though Wan augments several sequences with digital techniques. As the movie progresses, saturation is slowly sucked out, resulting in chillier images. A 125-year-old Victorian era home in Los Angeles' Highland Park neighborhood, listed in the U.S. National Register of Historic Places, also helps give the movie an evocative setting.
The framework of the story, though, fleshes out the greater mythology of the Lamberts' paranormal assault in diminishing and unsatisfying ways. Whannell's script, from a story credited to both he and Wan, has a certain Möbius-strip quality to it, wherein time and particularly space — in the form of "the Further," the franchise's limbo state between the living and the dead — are bent to and fro. The pieces don't quite fit together, however.
Certain bits just lack dynamism — an 11-minute cold open which further delves into Josh's childhood feels like a misplayed hand, especially given how awkwardly it incorporates Shaye's overdubbed line readings for a younger Elise — while some dialogue makes spurious and/or unnecessary leaps in logic ("That's why he wanted your son!") in a desperate attempt to impress causality upon a story that doesn't require it. Mostly, though, it feels like much more could have been effectively wrung from Josh's descent into "Here's Johnny!"-style madness. In trying to sketch out a deeper backstory that inevitably yields to more conventional boogeymen, Wan and Whannell fail to grasp the nature of the appeal of the original Insidious.
Wilson gets to stretch a bit, playing somewhat darker and against his Everyman qualities. But Insidious: Chapter 2 takes too long to get to his madness, and affords him only one true showcase scene. All in all, this chapter feels like one to skip.
Production companies: Stage 6 Films, Entertainment One, Blumhouse Productions, Oren Peli Productions
Domestic distribution: FilmDistrict
Producers: Jason Blum, Oren Peli
Executive producers: Brian Kavanaugh-Jones, Steven Schneider, Charles Layton, Peter Schlessel, Lia Buman, Xavier Marchand
Co-producers: John Leonetti, Jeanette Volturno-Brill, Rick Osako
Associate producers: Couper Samuelson, Bailey Conway, Phillip Dawe, Jessica L. Hall
Screenplay: Leigh Whannell, based on a story by James Wan and Leigh Whannell
Cinematography: John Leonetti
Editor: Kirk M. Morri
Production designer: Jennifer Spence
Music: Joseph Bishara
Websites: www.InsidiousCh2.com
Main cast: Patrick Wilson, Rose Byrne, Lin Shaye, Ty Simpkins, Steve Coulter, Barbara Hershey, Leigh Whannell, Angus Sampson, Andrew Astor, Danielle Bisutti, Hank Harris, Jocelin Donahue, Garrett Ryan, Tom Fitzpatrick, Michael Beach