Director Timothy Reckart recounts his night at the Annie Awards in Hollywood and the moment he won the prize for Best Student Film.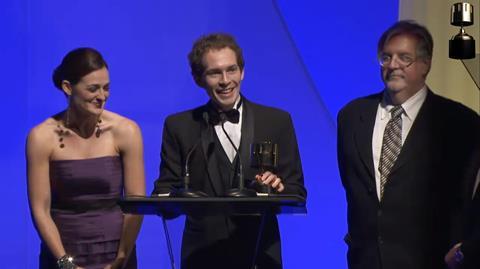 What a thrill it was to be in Hollywood this past weekend for the 40th Annie Awards, known as "animation's highest honour".
With a nomination for my stop motion short Head Over Heels, I got to share an auditorium with some of the titans of animation whose work has inspired so many young animators like me. So when Matt Groening, creator of The Simpsons, announced that my film had won the Annie, I felt grateful not only for the award, but also for the inspiration.
I think especially of Nick Park, whose work at Aardman Animations I have avidly followed since I was 10 years-old. In 1982, as a student at the National Film and Television School, Nick started making a quirky film that would eventually become A Grand Day Out, the Oscar-nominated short that launched the beloved plasticine duo Wallace and Gromit.
Exactly 30 years later, two doors down from Nick Park's old shooting room, I was at the NFTS finishing up my own graduation film. The energy and personality in Nick's animation of Wallace and Gromit drove my own ambition: to move around a stiff puppet in such a way that an audience could glimpse the character's soul.
At a film school, you learn not only from the artists who have come before, but also from your fellow students.
Our crew's passion for their specialized work was a continual inspiration.
Our cinematographer, for example, handcrafted a miniature set of flags, bounces, and reflectors so that she could have precision in lighting a 1/6 scale set. Our production designer tested four different kinds of wood and three different glazes to find the perfect floorboards, which she then cut, sanded, and laid by hand one at a time – all 3,500 of them.
That dedication comes from a personal place, much like the story of Head Over Heels, which arose from my own experiences of a long-distance relationship, of political disagreement with friends, of observing marriages that require sacrifice. All these ideas seemed to be summed up in the image of a husband and wife separated by gravity.
Despite its personal origins, there is something in this film that is universal. Even with an Annie Award and an Oscar nomination, the achievements I'm most proud of are winning the Audience Prize at festivals in such diverse places as Texas, Japan, and Brazil. People of different ages and backgrounds have all connected with this story of reconciliation, even though it came from the imagination of a 24-year-old UK film student. I find this so amazing and powerful.
Because it can tap directly into deep, personal emotions, film is a force for building communities. It connects the artist to the audience, connects audience members to each other, and creates a network of artists who inspire each other with their work.
That was the atmosphere at the Annie Awards: a community of artists whose work is completely intertwined. This is why, looking ahead to the Oscars, I think the Academy Awards are a perfect home for a student film like Head Over Heels.
It's called the "Academy" because the film industry is a school. We're constantly learning from each other.
Timothy Reckart, director