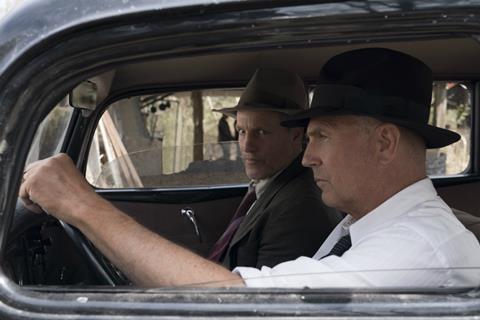 Reaffirming its reliance on international growth, Netflix has reported a record gain of 9.6m paid subscribers around the world in the first quarter of 2019, with 7.86m of them coming from outside the US.
The gains leave the streaming giant with 88.63m paid subscribers in international markets and 60.23m in the US, for a global total of 148.86m, 25.2% up on the total at the end of the first quarter of 2018.
Netflix is predicting that it will add another 5m paid subscribers in the second quarter of 2019, 0.3m in the US and 4.7m internationally.
Delivering a few more isolated (and unverified by outside sources) viewing figures, Netflix said its new comic book-based series Umbrella Academy was viewed by 45m member households in its first four weeks on the service.
Among its newly released original films, the company said Ben Affleck heist thriller Triple Frontier drew more than 52m households in its first four weeks. Kevin Costner/Woody Harrelson crime drama The Highwaymen is on track to be watched by more than 40m households in its first month, Netflix said.
Among international series, the company said Kingdom, its first big Korean original, had been its most successful first season title yet in that country and has been watched by "millions" in other markets.
During an online earnings interview, Netflix chief content officer Ted Sarandos promised that the streamer, known for keeping viewing figures under wraps, will become "more fully transparent about what people are watching on Netflix around the world."
"Over the next several months we're going to be rolling out more specific, granular reporting, first to our producers and then to our members and of course to the press over time," Sarandos said.
In its letter to shareholders accompanying the first quarter results, Netflix downplayed impending competition for the streaming audience from the services to be launched later this year by Apple and Disney.
Disney and Apple, said the letter, "are world class consumer brands and we're excited to compete; the clear beneficiaries will be content creators and consumers who will reap the rewards of many companies vying to provide a great video experience for audiences. We don't anticipate that these new entrants will materially affect our growth because the transition from linear to on demand entertainment is so massive and because of the differing nature of our content offerings.
"We believe we'll all continue to grow," the letter went on, "as we each invest more in content and improve our service and as consumers continue to migrate away from linear viewing (similar to how US cable networks collectively grew for years as viewing shifted from broadcast networks during the 1980s and 1990s)."
Netflix's revenue for the first quarter was $4.52bn, up 22.2% from the first quarter of 2018, and operating income was $459m, up 10.2% on 2018.