Nigel Sinclair and Guy East talk to Mike Goodridge about building Exclusive Media Group, now in its third year of operations, into a diversified global operation for the digital age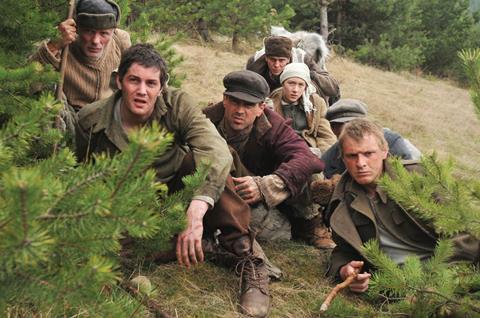 When Netherlands-based investment fund Cyrte Investments bought UK horror brand Hammer Film Productions and its 295-title library in May 2007, industry stalwarts Guy East and Nigel Sinclair were brought on as non-executive directors. Simon Oakes and Marc Schipper had led the acquisition and recapitalisation of Hammer, and it was they who brought East and Sinclair to the table.
Cyrte originally began as the family investment arm of media entrepreneur John De Mol in 2000 but grew to include other investors and by 2007 had come under the management of Delta Lloyd Asset Management.
East and Sinclair, then running production outfit Spitfire Pictures, developed a good relationship with Cyrte's CEO Frank Botman, and it was Botman who came up with the plan to bring Spitfire and Hammer together in one company.
By May 2008 the merged Spitfire/Hammer group was born, originally called HS Media but later rebranded Exclusive Media Group after the Exclusive Distribution moniker which Hammer once used to distribute its films theatrically in the UK. East and Sinclair were named co-chairmen, Oakes vice-chairman of EMG and president and CEO of Hammer and Schipper COO. Cyrte said the group would have shareholder equity and facilities in excess of $100m for development and production purposes "with the ability to leverage this capital further".
"It was a very natural fit with Hammer," says East. "I had represented the library at different stages, for example. The attraction of Hammer is that there are very few brands in the film business and Hammer is a brand that we felt we could rebuild."
Focus on content and marketing
"We set out to try and build a company that was driven by a combination of production, distribution and new media," says Sinclair, who explains that a slate of films had already been set in motion before the merger was complete, including Peter Weir's The Way Back and a George Harrison documentary to be directed by Martin Scorsese from Spitfire, and from Hammer Let Me In (the retitiled remake of Let The Right One In), Hilary Swank thriller The Resident and small Irish horror Wake Wood.
Sinclair continues: "It seems to us the changes in the industry right now are going to create unknown consequences for distribution channels but two things are clear — that content and marketing will be the two enduring qualities.
"So content creation is a cornerstone of the business, while we also realised that marketing and distribution will increasingly be about marketing because distribution will become more fungible and barriers to entry will become lower and lower."
So when the company created international sales arm Exclusive Films International under East, managing director Andy Mayson, president of international sales and distribution Alex Walton and senior vice-president of distribution Peter Naish, the emphasis was on marketing prowess as well as sales relationships.
"The sales company was out of fashion in the late 1990s because people said it was just a broker," says Sinclair. "But we think we have a very strong service because we have strong marketing in [EVP of international marketing] Matthew Hampton and Cynthia Swartz [of out-of-house consultant 42West]."
East and Walton are also forging strong alliances with key distributors for the Exclusive product, though Sinclair is keen to point out they are not output deals per se. "We don't have an output deal with Sammy Hadida [at France's Metropolitan] but he buys all our movies," he says. "Not only does he buy all our movies but he has a massive number of great opinions about what we should be doing and what we are doing. So it's like we have a partner in France. We're replicating that in the UK. Part of our strategy is to institutionalise this process so when we look like we're committing to a movie, we pretty much know we have half the world on board before we start selling."
In September 2009, Exclusive took a further expansion step by buying Chris Ball's US distribution outfit Newmarket Films, whose recent releases include Jon Amiel's Creation and Alejandro Amenabar's Agora. "We think it's a natural evolution for our company because there is still an appetite for independent film in the US and the studios have priced themselves out of that business," says Sinclair. "We want to grow Newmarket organically and incrementally and not in one big leap. It obviously services our international agenda to have our own US distribution company, even though we may take the biggest films to studios."
The decision was made earlier this year to release Weir's The Way Back through Newmarket, and the film will open in the US and UK in December for awards consideration. At the end of that month, Ball announced he was striking out from Exclusive to launch a new independent, Wrekin Hill, which will work on The Way Back and other EMG films; EMG meanwhile is planning to hire new distribution and marketing executives and pursue an "aggressive acquisitions strategy".
Meanwhile, Exclusive is working to expand the Hammer brand, sealing deals with Random House for a Hammer book imprint, and with Dark Horse Comics for a Let Me In comic book in the UK. Hammer is working on a live London theatre concept resurrecting the Hammer House of Horrors label as well as TV ideas with the BBC, DVD box sets, merchandising lines and remake ideas. "When Let Me In played at Toronto, the audience clapped at the Hammer logo which was almost as great for us as the fact they loved the movie," says Sinclair.

Digital development
And EMG is focusing on its digital strategy. It has struck a deal with Paramount to produce two low-budget features for online delivery systems, and in terms of servicing its large library of Hammer, Spitfire and Newmarket titles, it is experimenting with shorter term and non-exclusive licenses.
"You have to go to different buyers because studios won't buy the rights for these terms," says Sinclair. "We believe we can access revenue streams more efficiently. We had an offer on a film from a studio recently for a 10-year licence which would have been handy cash but we made the decision not to take it and just to start licensing the film in small digital nuggets. We did a BBC deal on it, for example, and we will probably end up with the same money for the next three years as we would have had for 10. It's a lot more work to do it that way but that has to be the future."
"You're talking about eliminating the middleman," he continues. "At the moment Netflix will make a one-off film deal on the same terms Lionsgate would offer for a 600-title library deal. That may change, they may make the barriers to entry higher. But in the meantime, it's smart to make a one-year licence and see what happens. We own Memento clear and outright — we can make a deal with anybody on that film. Will it end up being as big as DVD was in 2005? Who knows? But it does mean we're not dependent on Lionsgate or Warner Bros to take us to this market."
So what lessons did East and Sinclair learn from their experience running Intermedia Films in the late 1990s and early 2000s? "I think being better capitalised makes life a lot easier," smiles Sinclair, "and helps you think strategically and not be forever improvising to meet the payroll.
"In a company like Exclusive, the biggest assets you have are the right personnel because they help you grow. We're trying very hard to create a corporate culture in the company, to create a football team that plays together as a team that can beat the team of Peles that doesn't play together."
Factfile
Nigel Sinclair
Began his career practising law in England and then in Los Angeles with London firm Denton Hall Burgin & Warren.
Co-founded Los Angeles law firm Sinclair Tenenbaum & Co in 1989.
Left his own firm in 1996 to found Intermedia Films with Guy East which backed films including Sliding Doors, Hilary And Jackie and Enigma; merged with MoritzBorman's Pacifica to form IM Internationalmedia in 2000, which was involved in K-PAX, The Wedding Planner, Terminator 3: Rise Of The Machines and others before Sinclair and East left in 2003.
In 2003, he formed Spitfire with East and produced documentaries such as No Direction Home: Bob Dylan and Amazing Journey: The Story Of The Who.
Merged Spitfire into Exclusive in 2008.
Qualified as a lawyer at Slaughter & May. Later served as director of distribution and marketing at Goldcrest Films International, working on films such as The Killing Fields, The Mission and A Room With A View.
Elected as the first UK director of the American Film Marketing Association in 1985.
Moved to Carolco Films International before founding Majestic Films International to handle award winners such as Dances With Wolves and Driving Miss Daisy
Teamed with Nigel Sinclair to form Intermedia Films in 1996.