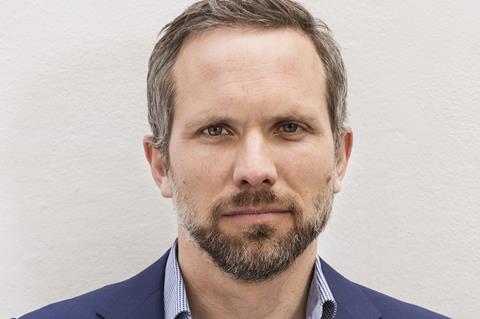 A year after launch, Rocket Science has made a lot of noise and build a prestige slate that for AFM includes the Nicole Kidman crime thriller Destroyer, which is set to go before the cameras on Nov 29 in Los Angeles.
Founder and CEO Thorsten Schumacher talks about what buyers want, LA expansion, and the value of markets.
How's the first year gone?
It's been a whirlwind. We're going into our 12th title that we're either selling or selling and financing. It's more than we expected in the first year, but these were projects we couldn't say no to. We want to focus on prime projects and build a top brand. It feels good because it's an eclectic line-up and we're passionate about every single one of them – they're not just product. Really cool films with talent that we connect with. I've always wanted to do that.
How did Destroyer come to you?
It came to us from Jessica Lacy and Peter Trinh at ICM Partners. They told me about it about a year ago and I thought if anybody writes a screenplay and wants to direct something called Destroyer it must be amazing. They introduced me to Karyn [Kusama] and [two screenwriters] and we hit it off. They're such great team and I felt commercially and creatively we were completely on the same page. It's such a complex role for a female character in a great visual setting. It came together quickly during the summer and Toronto. I've always had a great relationship with Micah [Green, of 30WEST]. They started talking to Nicole [Kidman] over the summer. She's having such a great moment in TV [with Top Of The Lake: China Girl] and with The Beguiled and The Killing Of A Sacred Deer, which I pre-sold in my last year at HanWay.
What do buyers want?
We're living in a period of constant disruption. It's a wild environment right now. We have so much interaction in between markets with distributors. I might sometimes go to Paris or Munich for a day for lunch, so there's a lot of interaction throughout the year. [This way] we have a deeper understanding of their needs across different markets. I go to LA every six weeks and have a close relationship with the agencies and producers. It's about maintaining close relationships on both sides. Then you read a screenplay and it's a gut feeling – for example it feels like the right time for Karyn to direct Destroyer. It's a bit of a sixth sense. Bubbles was like that. It came together so quickly. I remember sitting with Micah [Green] when he was at CAA and we all loved the script and then Taika [Waititi] came along and it all made sense. [Netflix controls worldwide rights and production is expected to start in 2018.]
What is the update on US expansion?
We're going to expand in LA. It's more about a bigger partnership across film and TV. It's gotten a bit more ambitious and we're handling a few more films at this stage than I expected so [the idea] is getting bigger. We plan to launch something in LA next year.
Do markets matter?
They matter. It's always going to be the case that some are slow and some are busy. It's cyclical. It's a people business. You can do a lot of homework and prep but the personal interaction is so key. You're putting these films together and they're like a pop-up business and you're sourcing shareholders for them and you have to ensure you have the right shareholders.
Every project is like a marriage between business and creativity. It's like curating. The markets are super important. It's impossible to replicate the competitive environment when you get everybody in the same place. It's to the advantage of the producers and financiers to set up these projects around the markets. Although we probably do half our business outside the markets, I'm very fond of the AFM and I have always felt it's a good time to launch a project because there's a bit of space there. I have never had a more successful market than AFM last year. It's a very focused and professional market but also relaxed because there's no festival there and everybody is there to buy and sell and we're all pretty much in the same building. And it's warm and it doesn't rain.
What are you doing in TV?
We're putting together a slate of established showrunners and packaging projects and aiming to go out with a full slate. We're coming across such great talent and material and it will give us more flexibility and reach across platforms.
What conversations are you having with the 'sleeping giants' YouTube Red, Facebook, Apple?
These are new formats so it's a bit of a dialogue because you want to get on board early and develop something with them. We're listening and learning about what their audience viewing habits are. You start to embrace a whole new way of storytelling. There's a lot of disruption and it's an interesting time. We knew we wouldn't be able to be successful as a traditional sales agent – you have to evolve in all directions. That's what we're doing rather than being a middle man.
What's the update on the musical Juliet, Naked, the Nick Hornby adaptation starring Rose Byrne, Ethan Hawke and Chris O'Dowd?
Juliet, Naked just wrapped two months ago. It's in post and it's all coming together well. The chemistry and humour work well and I could see this as a crossover title and it could get a festival release.