Oscar-winning Spanish director Fernando Trueba unveiled his first new dramatic feature in seven years, the Chile-set The Dancer And The Thief, at San Sebastian last month. Chris Evans reports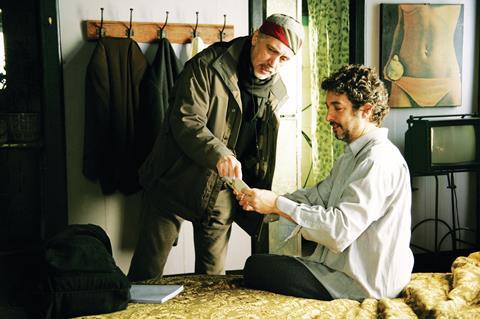 Fernando Trueba won the foreign language film Oscar in 1993 for his popular Franco-era drama Belle Epoque, beating his Spanish contemporaries Pedro Almodovar and Alejandro Amenabar to the ultimate Hollywood prize by several years. But the director has not delivered a fictional feature since his disappointing The Shanghai Spell (2002).

During the past seven years he has made two concert films and a documentary, as well as producing a feature. Now he is back with The Dancer And The Thief, a drama which had its world premiere at San Sebastian last month. The film has been submitted as Spain's entry for the foreign-language Oscar - beating Almodovar's Broken Embraces.

The Dancer And The Thief tells the story of a famous old safebreaker, played by Ricardo Darin, who is released from a Chilean prison and becomes involved in a scheme to steal money from one of General Pinochet's henchmen.

The project first came together when Italian media mogul Vittorio Cecchi Gori bought the rights to Antonio Skarmeta's novel of the same name when it was published in Italy. Skarmeta recommended that Cecchi Gori approach Trueba.

"I was making a documentary in Brazil at the time when Cecchi Gori called me and offered the book," explains Trueba. "I love reading novels, but never look for a movie idea when I'm reading. I prefer writing original scripts. However, with this novel I had 70 pages left and the movie and its characters already existed in my head."

"I had my cinematic glasses on and was picturing films like Francois Truffaut's Shoot The Piano Player, mixing in my mind elements of comedy, tragedy, thriller, western, and, above all, romance." Trueba admits it would have been easier to film in Argentina, where he could have acquired a co-producer and funding for the project without any difficulty, but he was determined to shoot The Dancer And The Thief in the "virgin film landscape" of Santiago, Chile.

As a result, the film is solely Spanish, with Trueba's long-time collaborator Cristina Huete producing through the director's Madrid-based company, Fernando Trueba Producciones. Cecchi Gori took an executive-producer credit and Spanish public broadcaster TVE helped with financing by pre-buying TV rights. Spanish outfit 6 Sales is negotiating deals with distributors.

Meanwhile, Trueba is hard at work on three more projects. He has about seven months left of production with graphic artist Javier Mariscal and UK outfit Magic Light Pictures on animated film Chico & Rita, about a pianist and his lover, set in 1950s Cuba and New York; he is developing The Artist And The Model, a French-language project, co-written by Jean-Claude Carriere and set in 1940s occupied France; and finally he is due to reunite with his Belle Epoque star - and fellow Oscar winner - Penelope Cruz on Haunted Heart, a thriller which she has been developing at Luc Besson's EuropaCorp.

"I had the honour of being approached by Penelope directly to work on the project, which I will be ready to make as soon as she gives the nod," he smiles.
Fernando Trueba
Trueba's film career began in 1974, aged 19, with the semi-autobiographical Oscar And Carlos.
His first feature, Opera Prima, won him the Young Talent Award at Venice in 1980 and was instrumental in changing the Spanish film landscape post-Franco.
In 1982 he produced and directed his first music documentary, Mientras El Cuerpo Aguante, on singer Chicho Sanchez Ferlosio.
His 1986 feature, Year Of Enlightenment, won the Silver Bear at Berlin.
Romantic drama Belle Epoque, starring a young Penelope Cruz, won the foreign-language Oscar in 1994. It was followed in 1995 by US romantic comedy Two Much, with Melanie Griffith and Antonio Banderas.
His last feature film, The Shanghai Spell (2002), failed to set the box office alight, although it won three minor Goya awards.