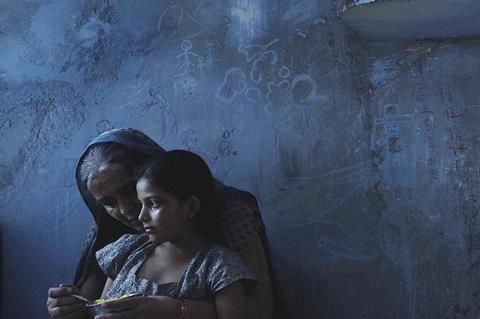 Devashish Makhija's Ajji received its world premiere in BIFF's New Currents competition last weekend, before screening at the Mumbai Film Festival, which this year is taking place at the same time as BIFF.
At both festivals, the film is stirring debate with its unflinching portrait of a grandmother seeking revenge for the rape of her 10-year-old granddaughter when the police refuse to help. Although the film plays like a thriller, it also dredges up uncomfortable questions about class, injustice and gender politics, not to mention Indian society's attitudes towards prostitution and sexual abuse.
"I did a lot of research for this film – I reached out to pro bono lawyers who deal with child abuse cases and spoke to a couple of parents and survivors," explains Makhija, speaking to Screen in Busan before flying to Mumbai.
"I wanted to find out how a survivor would feel one week, one month, one year after such an attack and weave that into the story. I had a female co-writer [Maya Tideman] and a lot of women in the crew because I knew if I got one thing wrong, people would say I didn't understand the issues because I'm male."
"But at the same time, I didn't want this girl to come across as a victim," Makhija continues. "Despite everything she's been through, at the end of the day she inspires her grandmother to be strong."
Central to the film is Pune-born, Mumbai-based actress Sushama Deshpande who gives an impressive performance as the grandmother. Like most of Makhija's cast, she comes from a background in Marathi theatre, in which she has written, directed and acted in dozens of acclaimed plays, many with a feminist theme.
"I was trying to find someone like the main character in [Korean filmmaker] Bong Joon Ho's Mother, because you empathise with that actor but at the same time she totally unnerves you," explains Makhija. "I kept auditioning people until I met Sushama and had an immediate connect."
Ajji is uncompromising, even by international standards, but Makhija says he had an understanding producer, Siddharth Anand Kumar, who gave him total freedom. The film is the first completed feature from music giant Saregama, which stepped into the production of independent films last year.
"I was developing this story as a short film, but last year had another short that went viral, and a few weeks later Saregama called me and asked if I had anything to pitch," Makhija explains. "I asked them to give me a day and expanded this project into a feature. The first treatment was in the Tarantino zone and read quite sexy, so I changed it, because I wanted it to be brutal. The outrage I have about cases like this, I wanted the viewer to feel that as well."
Makhija came to independent film by a circuitous route – after trying his hand at journalism and graphic design, he worked as a researcher on Anurag Kashyap's Black Friday (2003) and was the chief assistant director on Bollywood film Bunty Aur Babli. Following that he was offered a three-picture deal by Yash Raj Films and spent years developing a project that was supposed to be co-financed by Disney but eventually got shelved.
"I took that as a sign, and anyway was finding the research-driven stories that were coming to me much more interesting, so I decided to not go back to Bollywood," he says.
In 2013, he directed his first feature Oonga, about the displacement of Indian tribals, and followed that with a series of shorts touching on political issues. "In 2014, there was a lot of excitement in the online space and all the portals started doing content," he says. "That allowed us much more freedom as filmmakers, as online content isn't subject to the same censorship, so I took advantage of that."
The last of these shorts Taandav, starring Manoj Bajpayee as a cop who is having a bad day, racked up more than a million hits in less than a month and prompted the call from Saregama. Makhija is now developing the short into a feature, Bhonsle, also starring Bajpayee, which is scheduled to start shooting later this month.
Following its Busan and Mumbai screenings, Ajji will play in competition at the Tallinn Black Nights Film Festival in Estonia and several other as-yet-unannounced festival screenings have also been booked. Initially, the producers didn't expect the film to attract so much international attention, but it started to draw festival programmers after executive producer Guneet Monga (The Lunchbox) brought on board Paris-based sales agent Charades.
Saregama also intends to give the film an Indian theatrical release, possibly in November, although local censors have already asked for several cuts. These include a large chunk of a disturbing sequence involving a mannequin. "I'm really interested to watch this film with an Indian audience," says Makhija. "I kept the thriller elements because sometimes you have to give the audience a reward while you're trying to say something difficult. And I knew that by Indian viewing standards, some of this was going to be too much."