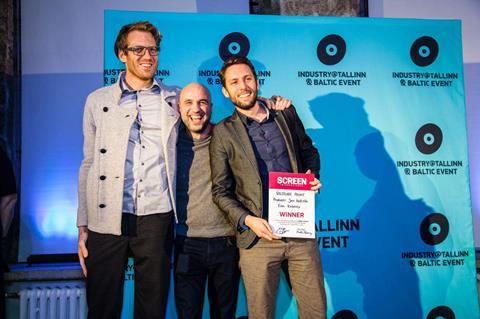 Czech filmmaker Robert Hloz's feature Restore Point was the winner of the Screen International Best Pitch Award at the Baltic Event co-production market during last year's Black Nights International Film Festival in Tallinn, Estonia.
Participation in the Baltic Event rounded off a busy 2017 for director Hloz and his producer Jan Kallista of Prague-based Film Kolektiv as they criss-crossed the globe to pitch their project.
In March, Restore Point was one of 25 film projects selected out of over 350 submissions to be presented at the 15th Hong Kong – Asia Film Financing Forum and was the first ever sole Czech project to be pitched at that event.
This was followed by selection as one of the 'It Projects' at the Bucheon International Fantastic Film Festival's (BIFAN) 10th Network of Asian Fantastic Films (NAFF) in Korea, and to Fantasia Frontières market in Canada's Montreal, before travelling to Tallinn for the Baltic Event at the end of November.
Restore Point had previously participated in the 2016 edition of the Midpoint Feature Launch script development programme, where it won the Best Project Award.
"We gained a broad insight into how different territories would respond to such a project and coming to Tallinn was very important for meeting potential European partners," said Kallista.
The seeds for Restore Point were sown some three years ago when screenwriter Tomislav Cecka came to Hloz with the first draft of a script.
"I've known Tomislav for many years and we studied together at the FMK UTB film school in Zlin, Czech Republic where we made two short films together," 28-year-old Hloz recalls. "Tomislav then went to England to study screenwriting and when he came back, he was full of ideas including the first draft for Restore Point. I immediately fell in love it and once we came together with Film Kolektiv, we started working more intensively on developing the script."
The detective sci-fi is set in the Europe of 2038 where a new constitutional law guarantees 'one whole life to live'. Everyone now has the right of recovery in case of unnatural death and in this society and 'absolute murder' is nearly impossible. It is against this backdrop that ambitious detective Emma Trochinowska is having to solve the murder of a married couple where the restoration team was only able to bring one of them back to life.
"This Europe of the future has just passed through an immigration crisis," Hloz continues. "Even though this crisis has come to an end, there is still a fear of terrorism and xenophobia among society - which is a kind of mirror of what is happening now. We are trying here to look forward to see what might happen and how society will cope with the situation."
Love of genre
Hloz was keen that his feature debut would be a genre film. "I've always loved genre movies and wanted to work in this area because there haven't been that many genre films made in Central Europe," he explains.
"I think it could be particularly interesting to see a future Europe from our East European perspective," Hloz suggests. "I am not aware of any East European sci-fi film delving into the problems of society or the current mood prevailing in our region."
The director's love of genre was evident in his short films The Mill (2011), the award-winning Numbers (2012) and Liars (2016).
"I use genre as a kind of platform to present a message," Hloz adds. "What I like about genre is that its mainstream character means that you can reach a larger audience with what you want to say about society."
He cites Alfonso Cuarón's dystopian sci-fi thriller film Children Of Men as an inspiration for both Cecka and himself.
Korean connection
Another influence on Hloz is the time he spent studying film directing at the Hanyang Film Department in South Korea where he made the Czech-Korean co-production Numbers.
"During my studies in Zlin, I fell in love with Korean cinema and, in particular, the films of Park Chan-wook so I applied to attend film school there," said Hloz. "The blend of art and violence fascinated me because it is so different from Hollywood and European arthouse cinema."
"My sci-fi short Numbers [which was nominated for the Czech Academy Awards] opened doors for me to make more films back in Europe, and without that film, I wouldn't now be making a sci-fi film in Eastern Europe."
"We've found a visual style that doesn't need lots of CGI because I am wanting to create a world that isn't reliant on lots of effects," Hloz adds. "And having a Central or East European setting means that we can use a lot of locations that look very exotic in international eyes and futuristic in their own way."
Moreover, director and producer have decided the language question in favour of using Czech. "All the international sales agents we spoke with recommended that we make the film in the Czech language," said Kallista.
"I feel that makes the film quite exotic," Hloz adds. "If we were to make the film in English, we would have to compete with the whole American market for genre films and it might be difficult to make the film stand out."
As Kallista points out, the project is still at the early stage of financing: production funding was granted to the €1.7m project by the Czech State Cinematography Fund at the end of November 2017 which should cover 30% of the film's budget.
Film Kolektiv, whose recent co-producing credits include Jan Hrebejk's The Teacher, George Ovashvili's Corn Island and the Chinese TV series The Last Visa, is now looking to identify co-production partners from elsewhere in Europe to come onboard the project and then start the process of making funding applications in the partners' territories in the coming months.
"Ideally, we would then apply to Eurimages with our partners in autumn 2018 and prepare to shoot the film in the second quarter of 2019," said Kallista.