This Is The End co-writer and co-director Evan Goldberg spoke to Andreas Wiseman about star cameos, struggling to get finance and the possibility of a sequel.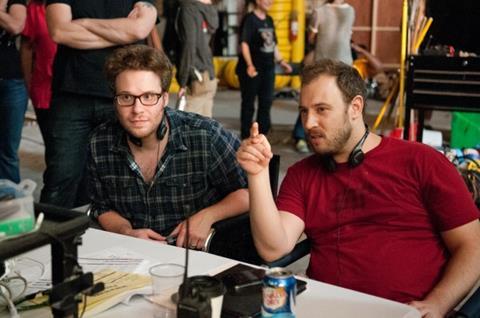 Real-life friends James Franco, Jonah Hill, Seth Rogen, Jay Baruchel, Danny McBride and Craig Robinson star as six friends fending off the apocalypse in This is the End, the uproarious directorial debut of Seth Rogen and Evan Goldberg, who previously wrote Superbad and Pineapple Express.
The Sony-backed comedy, released in the UK this weekend, features cameos from the likes of Rihanna, Emma Watson, the Backstreet Boys, Channing Tatum and Paul Rudd.
Screen caught up with writer-director-producer Goldberg, who had some hilarious behind-the-scenes tales, including Michael Cera being laid low by Rihanna, Emma Watson going "bananas" and being turned down by (almost) every financier in town.
How did This is the End come together, creatively and financially?
It started out years ago with our old friend Jason Stone and us sitting around drinking one night and coming up with the idea for an eight-minute short. Jason released it on the net as a one minute trailer called Jay and Seth vs the Apocalypse but the idea was kept alive.
We talked about it a lot and finally came up with the redemptive storyline for the ending and decided to base the whole thing on the true events of Jay leaving LA and Seth sticking it out.
Getting the movie financed was the biggest problem. No one wanted to make a film in which actors played themselves. We were rejected by every single company in town, including most of the studios, except Sony. Actually, we didn't pitch it to Warner Bros - I don't think they know we exist. Some people didn't even call us back.
We truly thought we'd have a bidding war because we had all six primary actors attached. To this day I don't understand what happened. Everyone asked: "This apocalypse thing is great but do they have to play themselves?" Yes, they do, that's the whole point! But we're used to it. Jud [Apatow] had to fight forever to get Superbad and Pineapple Express made.
Sony were the only ones who would take a chance on us. But even then we had to say we were going to shoot a lighter version, but we didn't do that.
There weren't any significant cuts. Sony let us do whatever the fuck we wanted on the whole. They were great. We went in and said we wanted $45m. They said "We love this film: we'll give you $31m. And if you agree to that you can and do whatever the fuck you want".
Andrea Gianetti [Sony evp, production] came down for one day, saw we were doing okay, and left us to it. We have an understanding with Sony that if they let us go ballistic, it will be better in the end.
Did the reduced budget mean pay cuts?
The producers made the monetary sacrifices. Some of our friends said: "I'm your friend, I'll do it for less". Some said: "I've helped you so much over the years, now you pay me back". But whoever made us pay them more on this one, they'll get less on the next one.
Were there friends who missed out on roles?
We're good friends with Edward Norton. He couldn't make it. Seth is friends with Liz [Elizabeth] Banks. She couldn't either. We're both friends with Bill Hader but he was busy on SNL. We also went to Daniel Radcliffe a year and a half before we should have. We fucked up on that one by overwriting a part for him and he turned us down.
So Emma Watson stepped in…
We weren't purposefully trying to get a Potter kid in the film. The two things were separate. We're big fans of Emma.
Do you think she has a big future in comedy?
Sure, I think she's got a future in comedy. She's got a future in whatever the fuck she wants. It was great fun watching her suss out what was happening when she arrived. Just before she showed up for her first scene we realised we had to rewrite that part of the script. We sat at a table with her and re-wrote it together. You could tell she was thinking: "What the fuck are these guys doing?" But she was delighted in the end. It took her half an hour to get into it.
But it's always the same. An actor arrives on set, they're a little guarded, then someone mocks themselves so intensely that it makes the other person comfortable. It takes them 30-40 minutes but then they realise they can do or say anything, that there's a circle of trust and that "I can go bananas." So, she did and it was awesome.
How did Rihanna get involved?
Seth had read in a magazine that Pineapple Express and Superbad were among her favourite films. So, we called her. She showed up with two buddies. Her one request was fried chicken in her trailer. It was crazy watching Emma meet Rihanna. Rihanna was like her Elvis. But everyone was on their toes: we're all like a million or two followers on twitter - she's like 30 million.
How did Rihanna feel about Michael Cera slapping her bum?
Michael Cera came up to me and asked if he could actually slap her ass. It was initially going to be mimed. We said: "We're not going to ask Rihanna if you can slap her ass, but you can give it a shot". So he went up to her and said: "I don't mean to be rude, but can I actually slap your ass? It'll be way funnier." She said: "Sure, but I'm going to actually slap your face."
So, we did three takes. It was like: Boom! He smacked the shit out of her ass. And she left a red mark on his face every time. But the third time, which is the take we actually used, she cuffed his ear and knocked his equilibrium off. He had to go and lie down for like two hours.
Was Michael Cera squeamish about his character getting blow-jobs and doing cocaine?
Cera wasn't squeamish at all. He was the all-star, the MVP. People were in awe. Obviously this isn't going to happen but he should win best supporting actor. If you look at his little nuances in the film, it's like Joaquin Phoenix in The Master. He transformed himself into another human. It's Daniel Day-Lewis shit. He became a coke addict.
I'm not certain, but I'm pretty sure he has never done cocaine. He's a mellow fellow from Brampton, Ontario in Canada. He's very calm. But he was on fire. It was the greatest thing I've seen an actor do.
Who was the funniest on set?
Michael was the funniest, the best, the craziest in every regard. Out of the six main guys, Franco took it to another level. We have a game where we pushed them to a point where they wouldn't do or say something. Jonah, for example, wouldn't say certain sexual things. Craig wouldn't insult Mother Theresa. Jay wouldn't insult Canada, hockey or the Montreal Canadiens, no matter what. Danny, I tried to get him to moon the camera.
Seth and Franco were the two people I couldn't get to say no to something. But Seth is a cheat because he could edit it out. Franco couldn't be phased. He has no shame, in the greatest way possible. The Neapolitan ice cream joke might be the funniest joke I've ever heard. He improvised that.
Also, Danny McBride in the breakfast sequence was a tour-de-force. He came up with that on the spot. The actors would say he was the all-star of the six main cast. People couldn't keep a straight face with him.
If you ask me, I'd say there's a good chance of sequel. If you ask Seth, he'd say no. So, we'll see. The guys are up for it but we lucked out that they were all available. I honestly don't know if we could get the guys together.
We actually talked about doing a sequel where it starts at the premiere of This is the End. Seth's a cokehead in this version, Michael Cera is a calm dude with a boyfriend, Rihanna and The Backstreet Boys are back. We have a lot of ideas: a heaven and hell, for example, and a garden of Eden version where Danny [McBride] is Adam.
What's next for Evan Goldberg the director?
A comedy called The Interview, in which James Franco and Seth play a talk show host and his producer, respectively, who unwittingly get caught up in an assassination plot against Korean dictator Kim Jung-un. Sony is backing again, with the shoot due for October.
Seth and I also recently produced Townies, starring Dave Franco, Seth, Rose Byrne and Zac Efron. In development there's Jamaica, written by Will Reiser, about a young boy who travels to Jamaica with his grandmother who has Alzheimers, and I think I'll produce a sequel to Goon.