The producer and co-founder of New Artists Alliance talks to Alec Govi about the documentary about California's juvenile sentencing laws and the people they affect.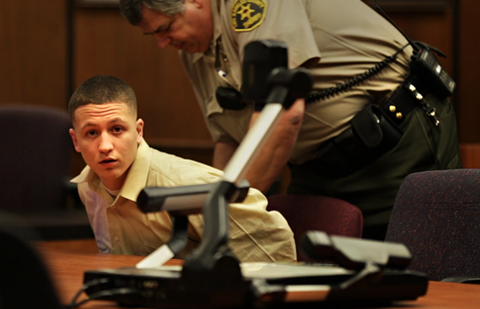 Against the backdrop of ongoing reform efforts to make the State's juvenile sentencing laws more lenient, Cowan and director Ben Lear go behind the doors of the facility where Cowan teaches a creative writing course.
Earlier this year, there was a successful challenge to a proposal by Governor Jerry Brown that would allow judges to decide whether juveniles should be tried as adults. California is one of only 15 states that allow prosecutors to make the decision. It is yet to be determined whether the measure will make it on to the November ballot.
Cinetic Media represents worldwide rights to They Call Us Monsters. New Artists Alliance produced the film with financier Bunim-Murray. It premiered at the Los Angeles Film Festival on June 6.
Most of your work in film has been in genre so what drew you to this?
My friend and colleague Ben Lear had an idea for a fiction film centring on Alzheimer's in prison, which I was intrigued by, so we started working on it. When we started to do research on the issue, I reached out to some of my friends who work with juvenile defendants, and they invited us to the juvenile facility [at Sylmar]. After talking to some of the kids there, and then learning about the current developments with SB-260 [a law passed in 2013 that reformed parole practice and that was under discussion at time of production], we decided that this was what our project would be.
Your documentary shows the human side of the offenders and interviews a victim. What do you hope viewers get from the experience?
We really wanted to let viewers decide for themselves what to think. Because on the one hand, you have these kids who have committed very violent and terrible crimes and need to be held accountable for their actions, but on the other hand, they're just kids and many of them are facing ridiculous sentences of hundreds of years. We thought it would be more effective in raising awareness if we shed light, not heat, on the issue.
The film did a great job of getting a voice on the SB-260 issue that is not typically heard: the juvenile defendants themselves. Can you talk about that?
Yeah so the kids were obviously very supportive of the bill and they were also very supportive of each other, supporting the bill because it would help not only them but their friends and fellow inmates. Something else that the film didn't directly address was the kids' idea that the bill didn't really consider the realities of their situation. In order to be eligible for parole at 15 or 25 years [under SB-260], kids have to exhibit good behaviour and conform to the prison rules. But some kids expressed the view that if someone punches them in prison, they're going to punch back to defend themselves, and based on the prison culture, it's sort of frustrating for them that they may lose eligibility for the benefit of the bill based on something like that.
Something else we documented was that the kids were very used to be condemned by society as monsters. They wouldn't even flinch when they heard things like that.
Talk a bit about the case of Antonio, who initially faced 90 years to life for two attempted murders at age 14, but eventually got transferred back to juvenile court and was released based on time already served
So Antonio's story was interesting because he was released and he had a large support group at home and was lucky enough to get into a good school after getting out. Yet his actions after getting out showed that the rehabilitation aspect of the sentencing didn't really work with him, and maybe he wasn't ready to be released. On top of that, the film shows how it was extremely difficult for him to enter a school where the other kids couldn't understand his background or what he went through. It shows that the rehabilitation aspect is a difficult issue and not functioning well for everyone involved.
Anything else you'd like to say about the film?
Yeah, just that in general California tends to be paving the way for other states to follow suit on a lot of issues, and that this is one of those issues. We hope that the film can raise awareness for legislators and citizens in other states where juvenile detention and sentencing is still a neglected issue and where teenagers are still being tried as adults and facing overly harsh sentences.
What's next for you?
I actually have four projects going on this year. I'm most excited about a science fiction television project I'm producing and which Steven Bochco is writing, it's called Genesis. [Cowan also produced two Tribeca Film Festival premieres this year: Fear Inc. and Loitering with Intent.]